X Factor Rejects Are The Stars Of This Year's Bizarre Peacocks Christmas Ad
14 November 2017, 12:14 | Updated: 14 November 2017, 12:18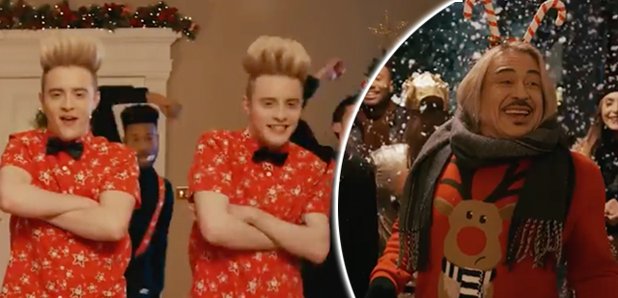 Recognise these faces?
The high street retailer Peacocks has just unveiled their new Christmas advert and we can't work out if we're laughing or crying.
If the tears are falling, it's not in the same way that the John Lewis ad makes our tear ducts run.
Rather than tugging at the heartstrings, Peacocks have gone for an abundance of humour in their festive advert, and peppered it with some familiar faces:
Featuring Jedward, Wagner, Honey G and (weirdly) winner Sam Bailey, this entertaining ad is all about the RAPPING...sorry...WRAPPING.
Kicking off the ad, twins John and Edward welcome us into a festive abode an exclaim: "Deck the halls with rhymes from Honey!"
And we can't deny, the rest is kind of catchy...isn't it?!
(Although we are pretty confused as to why 2013's X Factor winner Sam Bailey felt the need to get in amongst the most famous laughing stocks to come from the show...)
People took to social media to express their feelings:
Has anyone seen the Christmas advert for #peacocks

— Coco (@martinewagner7) November 13, 2017
Why Peacocks... why #Peacocks #Christmasad https://t.co/eriE9hUV9u

— Esc Scott (@esc_scott) November 14, 2017
The #Peacocks Xmas advert is genius...X factor rejects in all their glory!

— Lizzie Memory (@LizzieMemory) November 13, 2017
It's the one time of year that we're happy to sit through the advert breaks on TV - the battle of the Christmas ads has taken hold amongst supermarket giants and big high street brands in recent years, and arguably marks the time we can officially start to get excited about December 25th.
What do you think of the ad? Vote in our poll below: