Peter Andre took drastic measures to stop his kids playing Fortnite
13 June 2018, 11:56 | Updated: 19 October 2018, 11:14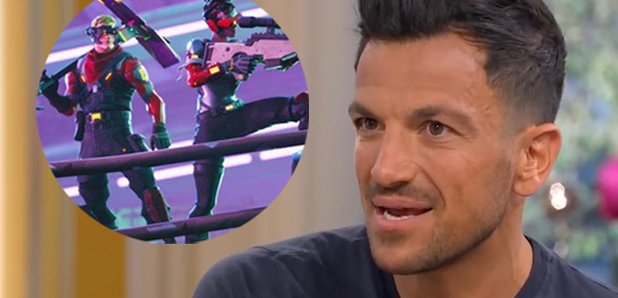 'The Mysterious Girl' singer says he 'regrets' letting his son Junior, 12, and Princess, 10, play the addictive adventure game.
Peter Andre has shared his concerns about just how much time his children spend playing Fortnite - and revealed he has gone as far as BANNING them from playing it.
Speaking on This Morning about Junior's upcoming 13th birthday, he said: "We've been pretty lucky but I just wish they would get rid of that game they keep playing – Fortnite.
"Honestly I've snapped that cable so many times at the back of the PlayStation."
He went on to explain: "It was an accident, we moved the thing and the cable snapped and he couldn't play it for three weeks, but he's playing it again now. I'm regretting it."
Continuing with his frustration, he added: "Why do they call it Fortnite when they play it every minute?"
Fornite is a fantasy adventure game that has been taking over households across the world, with many parents raising concern about its addictive qualities.
The game is set in a dystopian world, where 98 percent of the population has disappeared and it's up to the surviving members of the population to to fight zombie-like creatures that are roaming the Earth.
Worryingly, some elements of the game require purchasing extra items to complete quests and move in to new areas - meaning it can potentially cost a fortune to play.
Stacey Solomon recently admitted that she had gotten hooked on the game - but it's kids that are most at risk.
This weekend it was reported a 9-year-old girl had had to enter rehab after playing the game for TEN HOURS a day.
Her dad interrupted one late night gaming session and found she was sat on a urine-soaked cushion, unable to stop playing for even a moment.
When he tried to make her put down the controller, she slapped him around the face.