WATCH! Phillip Schofield Reduced To Tears As He Eats World's Hottest Chip!
15 November 2017, 15:48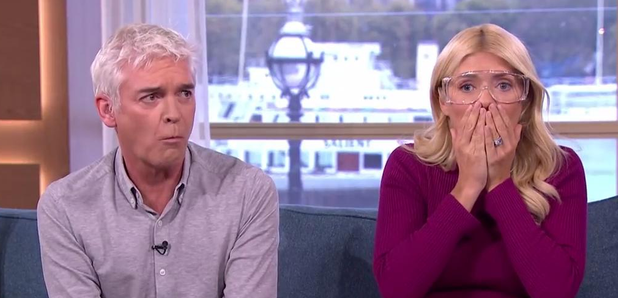 The faces he makes as he battles the heat are hilarious!
Kitted out in latex gloves because the chips are so spicy they shouldn't be touched with bare hands, Phillip Schofield launched straight into The World's Hottest Chip challenge in one single mouthful on This Morning:
Just two seconds in and Phillip goes from happily munching to heavily grimacing as the heat takes hold of his tastebuds. Holly is all of us as she watches on in pure horror behind her safety goggles, but Phillip seems to be a braver person than most as, ever the professional, he starts to describe what's going on in his mouth.
"It's really very, very painful" Phillip assures us, and we don't doubt the truth in that at all!
The silver fox sure is made of hard stuff, as an American presenter tried the same challenge recently and ended up sprawled across the floor on live TV.
Impressed fans took to twitter in amazement at Phillip's resilience to the spicy snack:
Phillip is a champ with the worlds hottest chip damn #ThisMorning

— rosie winter (@rosiewinterxox) November 14, 2017
Wow, Phillip Schofield!! That's impressive! #ThisMorning

— Ryan (@iAmRyan1211) November 14, 2017
Phillip is hardcore #ThisMorning

— Lozzabella (@LaurenRandall88) November 14, 2017
Viewers were left disgruntled as the programme finished before they could find out how long Phillip managed to last without succumbing to any milk or ice cream to cool his pallet, but he has since then revealed that his "bum was like a dragon's nostril" after the challenge.
Lovely imagery - thanks for that Phillip!