P!nk's Gleeful Carpool Karaoke TOTALLY Gets The Party Started For James Corden!
15 November 2017, 11:57 | Updated: 15 November 2017, 12:54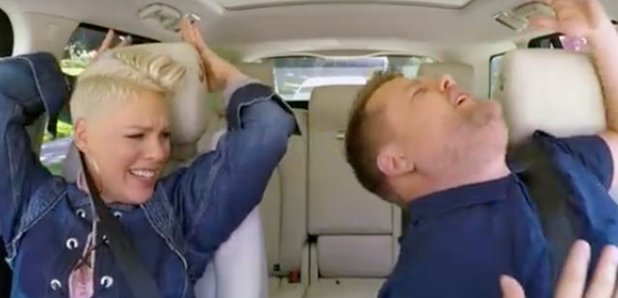 P!nk literally turns James Corden's world upside down as she gets in FULL party mood!
It's been a REALLY good year for P!nk and it got even better as she joined James Corden for some full-on banter in the latest Carpool Karaoke segment, which sees her and James literally hanging upside down. It is the most hilarious in the season yet, airing in the US last night (14th November).
Following on from Sam Smith's hot session, she sang up a treat giving us a medley rendition of her biggest hit singles including, 'What About Us' on which the pair harmonised with an amazing duet and followed up with the iconic 'Get The Party Started' which they totally nailed.
She talked crushes and weirdly embarrassing teen stories, plus James ends up blushing like a tomato as he gets stuck upside down.
WATCH: P!nk's Full Karaoke Session
She's funny, she's soulful, beautiful and boy those pipes! An incredible talent to have on the show. We are not worthy!
WATCH: Sam Smith's ALREADY Planned His Wedding, And It Starts With A Funeral