Plus Size Model Ashley Graham Hits Back At Bodyshamers Over Claims She's LOSING Too Much Weight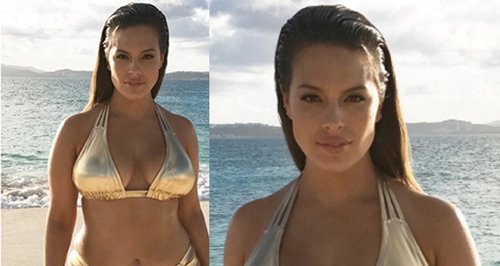 The model says that she just can't seem to win when it comes to her body.
She's taken the fashion world by storm, almost singlehandedly putting plus size on the map - and more importantly, on the catwalk.
The size 16 model showed off her enviable body in a gold bikini on the beach captioning it: '#beautybeyondsize #bts #myswimbody'.
The brunette beauty recently found herself in the middle of a storm where fans where claiming that she had lost too much weight and therefore was no longer representing plus size women in the industry.
The negative response from body-shamers came about after she posted a photo of herself wearing a slimming outfit; Balmain leather jacket over a white crop top and matching skirt.
The picture attracted comments claiming that she was turning her back on plus size, blasting her 'shrinking fame'.
The attack caused her to write an essay for Lena Dunham's Lenny Letter, where she admitted that despite regular sessions at the gym, "The reality is I haven't lost a pound this year," she wrote. "In fact, I'm heavier than I was three year ago, but I accept my body as it is today."
She also wrote about how excited she was about showcasing the top-end high street brand who "doesn't usually market to women my size".
Ashley insists that she can't win whatever her size as there are always people who criticise her shape.
"To some I'm too curvy. To others I'm too tall, too busty, too loud, and, now too small - too much, but at the same time not good enough.
"When I post a photo from a 'good angle,' I receive criticism for looking smaller and selling out. When I post photos showing my cellulite, stretch marks, and rolls, I'm accused of promoting obesity. The cycle of body-shaming needs to end. I'm over it."
It looks like being a woman in the industry is tough no matter what size you are. However, with strong women in the industry like Ashley, who represent a more diverse range of shapes and sizes, maybe the end of body-shaming is in sight.
Ashley is now working on America's Next Top Model after her success as being the first plus size model to appear on the cover of Sports Illustrated Swimsuit.
Keep doing what you do best Ashley and definitely ignore the haters!