5 Pop Stars That Should Have Left Rapping To The Professionals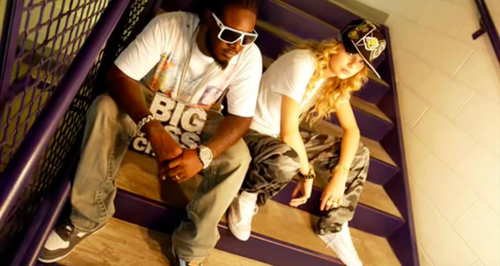 Madonna, Robbie Williams and Taylor Swift are all guilty of attempting to spit the rhymes...
Why is it never enough for some pop stars eh? They can sing, they can dance and they can project their voices to arenas of adoring fans.
So why do some singers take it upon themselves to try to break into the rap scene?
Here's some of the pop-stars guilty of doing just this - complete with the offending music videos!
Madonna
She may be the Queen of Pop and she may have a great set of lungs on her but spitting bars definitely isn't her thing. She tried it in her 2003 single American Life. Her initials may spell out MC but and rapper she definitely ain't! Watch from 2'41" and you'll see what we mean...
Robbie Williams
Oh Robbie, we love you but not when you're trying to 'break it down now y'all'. Do you remember his hit Rudebox? Yep, that one. At the time of it's release it was dubbed by the tabloid press as "the worst song ever". You can hear Robbie doing his thang from 0'13".
Britney Spears
Oh no Britters, rapping was something that you should have steered well clear of. To be fair, this leaked demo for It Feels Nice (also known as Sin City) was never really intended to feature on a Britney album and thank the Lord it didn't.
One Direction
Okay, so it's not like they sat in the recording studio to produce a rap song BUT they did go public with an attempt to cover the Fresh Prince of Bel-Airat one of their concerts. And to be fair, they didn't seem that impressed with their attempts. Niall said: 'We didn't think that through. We needed to rehearse it!'
Taylor Swift
We know that Taylor can take on the world but rapping may be something she should steer clear of. We'll let her off though because we know that she's taking the micky. We think. We hope...
The moral of the story is only spit the rhymes if you can do the time... Ouch.