5 Major Predictions For Game of Thrones Season 6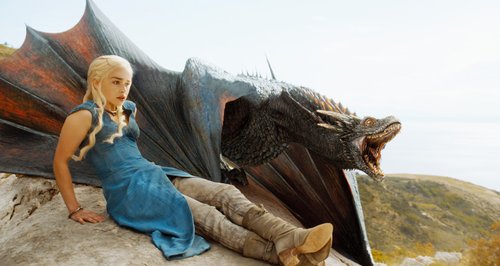 The season five finale shocker caused a Twitter storm among fans, and now that the show has caught up to the books AND veered quite far off script, what does this mean for season 6?
Earlier this year, George R.R Martin already announced that he had delayed the release of the next instalment of the A Song of Ice and Fire series, The Winds of Winter, he's just left us guessing.
Some of these predictions may be outrageously out there, but hey, were wiling to take a stab.
Jon Snow Is NOT Dead
Picture | Press
Even though actor Kit Harington has sworn black and blue that he won't be back, we're sticking our necks out to predict that he sooo will be.
Plus it's been tweeted that several Game of Thrones stars, including Harington, have signed contracts for a seventh series, and received a "significant pay rise".
We also reckon that Snow will be brought back to life by Melisandre's blood magic as we've seen with Beric Dondarrion, the leader of the Brotherhood Without Banners, being revived several times by Thoros of Myr.
Jon Will Be Outed As The Son Of A Targaryen
Picture | Press
Psst, rumour has it that Eddard Stark, or Ned as he's affectionately known, was NOT Jon's father but that Jon Snow was actually the son of Eddards sister Lyanna and Rhaegar Targaryen.
In our humble opinion Ned was pretending to be Jon's father to protect his nephew's life as being a Targaryen would mean certain death.
Stannis Will Return From The Dead
Picture | Press
In George R.R. Martin's books, at the end Brienne doesn't encounter Stannis and she certainly never swings her sword at him.
On screen the camera cleverly cuts away just in time leaving us all thinking he's been killed off.
Jon receives a disturbing letter reportedly from Ramsay claiming Stannis is dead but the timeline in the book doesn't quite add up and it's unclear whether Ramsay is telling the truth.
Dragons Will Be BIG and We Mean BIG!

Picture | Press
There has been a lot of emphasis on special effects in recent episodes of the show and dragons have taken on more significance as the season evolved.
According to the show's VFX supervisor Joe Bauer, we'll also be seeing some considerably bigger beasts next season.
In fact "The dragons will again be double in size" Bauer recently said when asked what viewers could expect from season six.
We're predicting that the new show will see the most exciting depiction of these creatures yet and we going to see some amazing and fearsome dragon special visual effects.
Cersei Will Rise And Then Spectacularly Fall
Picture | Press
Following Cersei's gruesome humiliation at the end of season five where she was sent naked from the Sept of Baelor we still believe she's going to keep battling on, for herself and for her family.
We predict a meteoric rise and we can see it coming, more hatefulness, manipulation and - well just more, lets face it emotional stability was never her forte.
If Cersei manages to get through her upcoming trial, she'll probably become a liability and a danger and because of this we think someone will finish her off!
Game of Thrones Season 6 will be coming to our TV screens on HBO at April 24th 2016 in America and on Sky Atlantic on April 24th 2016 at 2am.