Man Gets Photobombed By THIS Royal At THE PUB In This Hilarious Snap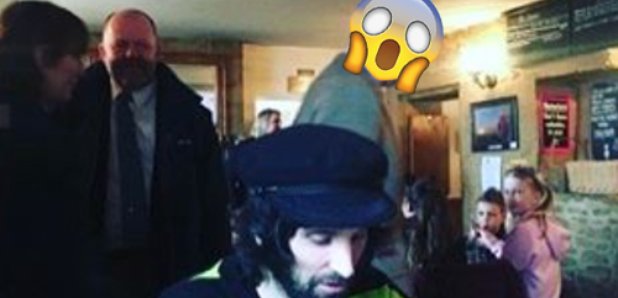 Locals were a little surprised to see the Prince Of Wales knocking back the pints in a local boozer.
Just imagine, you're sitting in a pub enjoying your weekend pint, and then a royal strolls in.
What's more, you don't even realise until you're scrolling back through photos you had taken that day!
Well, that's exactly what happened to Kasabian after they spent their weekend in a local pub in Somerset, only to realise that Prince Charles had popped in for a pint or two.
The group spent the day in an unassuming pub on Valentine's Day and were a little bit shocked to see that the heir to the throne standing behind them.
In a picture uploaded to Instagram, the band's guitarist Sergio Pizzorno in the foreground chilling, and lurking in the background is a suited and booted Prince Charles who is entertaining some children.
According to SomersetLive, Prince Charles was visiting the Prince Of Wales pub at Ham Hill, Stoke-Sub-Hamdon in Somerset on Tuesday night where he chatted to locals and even pulled a pint!
Speaking of his visit, landlady Nicki Holroyd, who has run Prince Charles' namesake pub with her husband Mike since 2006, told SomersetLive: "He was very generous with his time and it was just a brilliant day."
"We knew he was coming but it was lovely surprise for everyone else."
"He poured a pint and his visit was just a huge boost for everybody and our invited guests."
Prince Charles isn't the only royal to have made a surprise appearance in someone's photo, as Prince Harry was spotted sticking his tongue out when photobombing model, Winnie Harlow's picture last year.