The Queen Gave Prince Harry's Girlfriend 'Royal Approval' Over 'Secret' Lunch
23 November 2017, 11:31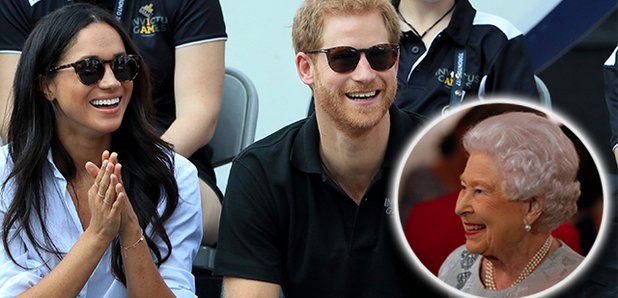 Speculation about a royal wedding has been rife and it's thought the Queen has given her blessing.
Despite having been together just 18 months and only publicly addressing their relationship in September, Prince Harry and Meghan Markle are sending fans wild with their 'imminent' engagement.
It is reported that American-born actor Meghan was invited to Buckingham Palace for tea last week to meet the Queen. Last Thursday a blacked-out Ford Galaxy was seen to be driving through the gates of the Queen's private entrance of the Palace at around 5pm.
The perfect time for a tea party!
WATCH: Prince Harry Picks Up Legacy Award On Behalf Of This Mother

According to the Daily Mail, the meeting was 'deliberately informal' to make sure Meghan was relaxed and not too nervous.
The source also revealed that the Queen normally sits for half an hour eating from a selection of sandwiches, fruit or plain scones and cake.
(We'd suggest going for plain scones, to avoid any fruit-in-teeth situations!)
Engagement rumours have been rife since the couple were spotted at the Invictus Games in Toronto earlier this year, holding hands and piling on the PDA.
Adding to the speculation is the fact that Meghan has decided not to renew her contract for American TV show Suits, supposedly in order to move to London to be with the Prince.
Meghan recently discussed her relationship with Prince Harry in depth to Vanity Fair, when she announced: "We're two people who are really happy and in love."
Prince Harry's representatives have remained mum on stories surrounding their relationship until now.
In a statement, The Palace said: "We have refrained from commenting on all previous stories about Prince Harry introducing Meghan Markle to members of the Royal Family and therefore we have no comment."
Meeting the future in-laws is always daunting, and it's definitely got to test the nerves when you're trying to impress The Queen!
We are sure Meghan absolutely nailed it though!