It's Been 19 Years Since We Lost The People's Princess But She Hasn't Been Forgotten.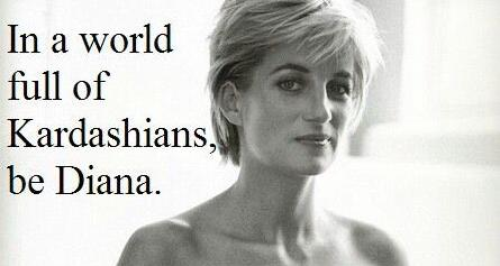 In a world full of Kardashians, be a Diana.
It's hard to believe that 19 years ago we lost one of our most loved icons.
The world was sent into mourning back in 1997 after news broke that Diana, who was just 36-years-old, was killed in a fatal car crash in Paris along with her boyfriend Dodi Fayed and driver Henri Paul.
Heads of States across the world sent their tributes, while fans laid a sea of flowers outside Kensington Palace in what became an outpouring of national grief.
As a mother, a humanitarian and an all round inspiration, Diana's life may have been short lived but she made a huge impact on the world.
From her work to raise awareness of HIV and AIDS, various charity work in Africa and her cutting edge style (and not mention sticking it to the royals!) Diana was a pioneer in more ways than one.
Nearly two decades on and her legacy is still as prominent as ever. Her two gorgeous sons Prince William and Prince Harry continue to do her proud and she has two grandchildren Prince George and Princess Charlotte, who are direct heirs to the throne.
Now, the much-loved icon has sent Twitter into meltdown as tributes flood in from those wishing to commemorate her death with memes and tweets about what they adored about her the most.
Remembering our amazing Diana, Princess of Wales.

RIP Queen of Hearts. @KensingtonRoyal pic.twitter.com/AiEMbpM1zU

— Jo (@pimpmytweeting) August 31, 2016
Impossible to believe that it was 19 years ago, the world lost the people's princess #PrincessDiana pic.twitter.com/PwWFFxe1gE

— pam witts (@pamelllar) August 31, 2016
This day 19 Years ago we lost our beautiful Princess Diana I adored… https://t.co/dJllmLl7te

— Jo xs (@KjorObbinsL) August 31, 2016
19 years ago, Diana, Princess of Wales passed away. Diana lives on in the hearts of our great nation and her boys. pic.twitter.com/kWlHulqVtS

— Renzo Soprano (@Renzo_Soprano) August 31, 2016
19 years and still greatly missed. #PrincessDiana pic.twitter.com/zCXpZKB7qA

— Cloud Nine Official (@CloudNineC9) August 31, 2016
19 Years Today #QueenofHearts #PrincessDiana Taken To Soon. pic.twitter.com/B5hFIMFK0t

— Pauline Oulaghan (@BhamPolUk) August 31, 2016
Rest in peace and live forever in our hearts!