Prue Leith Speaks Out For The First Time Since Embarrassing GBBO Spoiler
20 November 2017, 12:15 | Updated: 20 November 2017, 12:17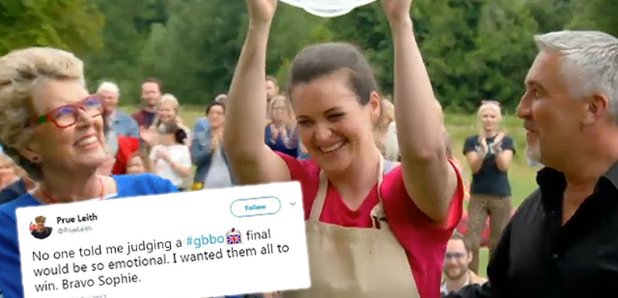 Her blunder spoiled the 2017 final for many fans.
The build up to the final of 2017's Great British Bake Off will remain etched in our memories for eternity, as poor old Prue Leith was left mortified after her social media blunder on the morning that the final was due to be aired.
Mary Berry's replacement accidentally revealed the winner at 10.37am that morning on her Twitter page - but the final wasn't going to hit TV screens until 8pm that evening.

The cake connoisseur was initially too upset to comment on her blunder, but she has now spoken about how the mistake happened.
Prue explained that she was in Bhutan at the time, and got confused with the time difference, thinking the finale had already happened.
Clearly, it had not!
Speaking of the support she received, she said: "Channel 4 were great. Everybody was, Love Productions, the production company, Paul...they all emailed me and said "Basically it is the sort of thing I could have done. We are really sorry. Don't worry about it too much".
Poor Prue was left so distressed by her mistake that she said: "it was days before I could sleep properly. I still feel absolutely mortified by it. It was awful."
Aw Prue!
Delivering a blow-by-blow re-telling of the blunder, she revealed: "I congratulated Sophie. And then I thought "Why is no-one else congratulating her?"
WATCH: The Best Of Noel Fielding's Bake Off Shirts:

The tweet was left in the Twittersphere for a mere 89 seconds before Prue's secretary deleted it. In such a panic, Prue revealed she "couldn't work her phone" to get rid of the spoiler quick enough.
Despite Prue's gaff, the final episode still saw the biggest viewing figures of the series, which we think she should definitely take some comfort in!