Raheem Sterling's 'controversial' gun tattoo actually has a heartbreaking meaning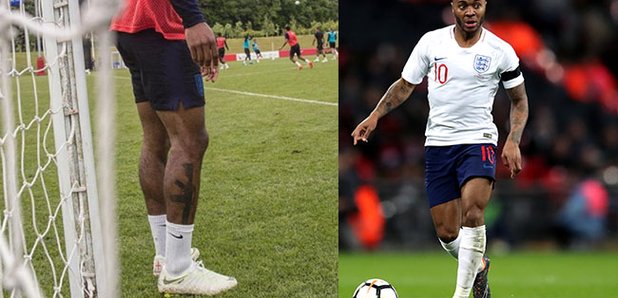 The Manchester City player's new tattoo of a deadly AK47 has come under scrutiny - but he says it's not about violence.
Raheem Sterling has faced some harsh criticism lately after he revealed a new tattoo on Instagram.
The Manchester City and England footballer has had an assault rifle inked on the outside of his right leg which he showed off during recent snaps of him in training.
Anti-gun campaigners were quick to wade in with their opinions on the new inking, and blasted Sterling for showing off his new body art.
Lucy Cope, founder of Mother Against Guns, told The Sun: "This tattoo is disgusting. Raheem should hang his head in shame. It's totally unacceptable."
She even called for him to be axed from the England squad during the impending world cup if he didn't get the inking lasered off or covered.
"We demand he has the tattoo lasered off or covered up with a different tattoo," she said.
"If he refuses he should be dropped from the England team. He's supposed to be a role model but chooses to glamorise guns."
However, Sterling has now defended his tattoo and revealed the meaning behind it.
In a post on his Instagram story he explained: "When I was 2 my father died from being gunned down to death. I made a promise to myself I would never touch a gun in my life time, I shoot with my right foot so it has a deeper meaning".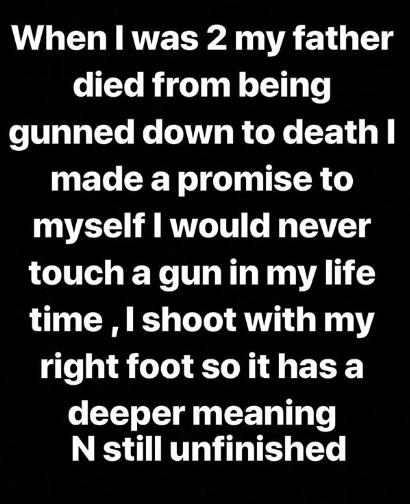 The message on Sterling's Instagram story | Picture: @sterling7
He also noted that the tattoo is still yet to be finished.
Many high profile sports people have jumped to defend Sterling including Match of the Day host Gary Lineker who tweeted:
"He's a terrific footballer with a brilliant work ethic. This persecution is disgusting."