Before They Were Famous! Brie Larson's Secret Pop Career Is SO Cringe!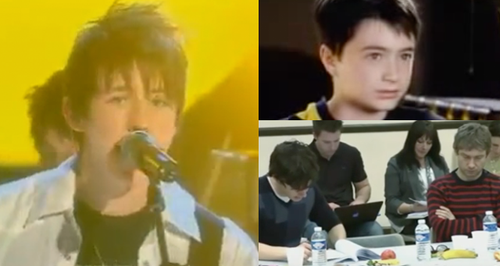 Did you know the Academy Award-winning actress actually started her career as a pop star?
Brie Larson may be an Oscar-winning actress after picking up an Academy Award for Best Actress on Sunday night, but did you know she actually started her career as a pop star.
Rare footage of the actress in a cringe-worthy music video for 'She Said' has been unearthed, and we admit, we had to watch it from behind our fingers.
The 'Room' actress was just a teenager at the time, and bears a striking resemblance to the likes of Avril Lavigne as she strums a guitar in this pop punk music video.
It's thought the music video was made around ten years ago, when she got her first break as a recording artist.
We don't know how she managed to keep this a secret!
Nowadays, Youtube star Tom Fletcher may be best known for his amazing home videos… but it wasn't always like that!
Check out this amazing old footage of McFly band members Tom Fletcher, Danny Jones, Harry Judd and Dougie Poynter performing their debut single 'Five Colours in Her Hair' on the now-defunct CD:UK from 2003:
Ryan Gosling - Pre 'The Notebook'
Ryan is the latest star to look back and cringe at old an old home-video from before he was famous! Check out his slick moves at 12 years old!
We almost had to look twice when we laid our eyes on this hilarious video of Ryan Gosling, long before he became the hunk that we all know and love today.
The blonde cutie is just 12-years-old in this vintage vid, which sees 'The Notebook' star dancing to 'Hound Dog' in what we can only describe as MC Hammer style spangly trousers.
Commenting on his cringe-worthy video tape, Ryan wrote on Twitter: "Obviously I peaked early. Thank you @JaneChupick and twitter for the check up from the neck up."
Wait a minute…did Ryan just break out the old school running man move? Hilarious!
Blake Lively - Gossip Girl
Ever wondered how Blake Lively got her start in Hollywood and managed to bag a gorgeous husband in Ryan Reynolds? Well check out her audition tape for the role of Serena Van Der Woodsen in 'Gossip Girl'.
Benedict Cumberbatch - Sherlock
The gorgeous Benedict Cumberbatch may be an Oscar-nominated actor, but not long ago he was keen to impress producers whilst reading his audition script for 'Sherlock'.
Daniel Radcliffe, Emma Watson and Rupert Grint - 'Harry Potter and The Philospher's Stone'.
Brandy, chicken, blood and cow-ears are are just some of the ingredients that a young Daniel Radcliffe was faced with when learning to grow a baby dragon in his audition for 'Harry Potter'. This gem of a video also features a screen test with Daniel's future co-stars Emma Watson and Rupert Grint. How cute?
Miley Cyrus - 'Hannah Montana'
Long before Miley Cyrus began twerkin' up a storm, the former Disney star was nine years old and auditioning for what would become her breakout role in smash hit television series 'Hannah Montana'. Miley had initially auditioned for the role of Zoe but was later asked to take on the lead role in the series about a girl who leads a double life as a pop star.
Rachel McAdams - 'The Notebook'
Can you believe that Rachel McAdams played both Allie and Regina George in the same year? It takes one heck of an actress to play the ring leader of the 'Mean Girls' and make us cry in her lead role opposite Ryan Gosling in the 'Notebook'. Looking back at her audition tape for the cult love film, we can see how amazing she really is!
Matthew McConaughey - 'Dazed and Confused'
The Oscar-winning actor is bound to make you drool whilst watching his audition for the iconic teen flick. With his sandy blonde hair and dreamy dimples, Matthew breezes through his script.