Rio Ferdinand Hits Back At Fans Accusing Kate Wright Of Putting Herself Before His Kids
14 February 2018, 07:48 | Updated: 27 February 2019, 11:33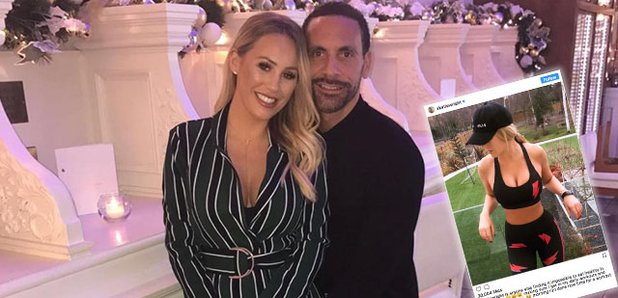 Rio Ferdinand defends his girlfriend in the best way…
Rio Ferdinand found himself stepping in to Kate Wright's defence yesterday, after fans accused her of putting herself before his kids.
Showing off her toned physique whilst decked out in gym wear, Kate posted an Instagram picture highlighting the struggle of staying healthy during half term.
In the caption she wrote: "Is anyone else finding it impossible to eat healthy in the half term,
"making sure I get in my daily workouts and hoping for a miracle."
Although many fans agreed with her statement, others were concerned that she was prioritising gym ahead of his children.
One commented: "Spose they pay for people to look after their kids whilst they go running/gym"
Whilst another added: "I would love to go for early morning runs and workouts through out the day but it's damn hard when your looking after your kids and working, how the other half live hey #wishful thinking,"
Rio on the other hand decided to make a comment of his own, and hit back at the trolls saying: she won't see this as she is out with the 3 kids again doing some fun stuff…I will let her know tho,"
It was just last year that Kate made the huge move to leave the limelight in order to become a full time mum to Rio's three children - which comes after their biological mum's passing.
Many fans commented in admiration of Kate's multitasking skills with one saying: "I cannot imagine for one minute it has been easy for her to take on a grieving man and his grieving children. Hats off to her. Love that she has given them a ray of light for the future."
Couldn't agree more. Just ignore the haters, Kate!
Watch more: