Fans Notice Something Odd About Rio And Kate Wright's Latest Workout Video
10 January 2018, 11:19 | Updated: 27 February 2019, 11:33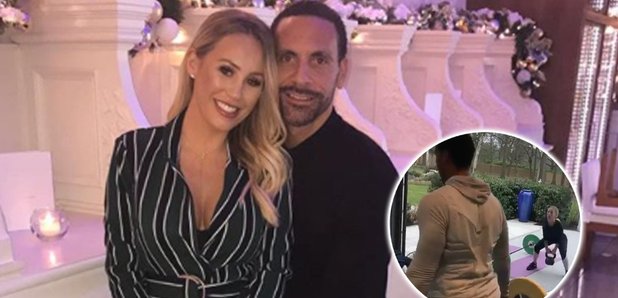 Hmm...something fishy is going on here!
Couples that work out together stay together, right?
New lovers Rio Ferdinand & Kate Wright have started the New Year with some serious couple goals, after Rio posted a video of the pair working out together at 5am:
Loved-up Rio posted the video to his Instagram, with the caption: "5am workout this morning...", but fans were quick to notice one tiny detail that may suggest the pro footballer was telling a bit of a fib.
It NEVER gets that light at 5am in January!
(If we see the sun at midday it seems to be a miracle these days...hmph #januaryblues.)
One social media user wrote: "It's dark at 5am. Lies!", whilst another put: "5am??? The sun doesn't come up till 8!". One even quipped: "'You millionaires get daylight at 5am can you?!'

Some people defended the star and claimed he was aboard, as Rio's previous Insta post pictured him flaunting his six pack and soaking up the sun in Dubai.
We're sceptical though - that definitely looked like a British back garden to us!
Rio and Kate reportedly began dating early last year after meeting each other on holiday, but kept their relationship quiet for many months before confirming it last summer via social media.
Kate, who rose to fame on reality TV show The Only Way Is Essex, quit the programme to focus on her relationship with the footballing icon. Rio, who retired from professional football back in 2015, has instead turned his hand (well, fists) to boxing, and is due step into the ring for the first time next month.
We can't deny, seeing these two pumping iron makes us feel slightly guilty about our somewhat sloppy start to the year (we WILL go to the gym...but it's just not convenient today...or tomorrow...).