Rio Ferdinand Reveals The Trickiest Thing About Being Mum and Dad, And It's Not What You'd Expect!
5 October 2017, 15:28 | Updated: 12 July 2018, 13:59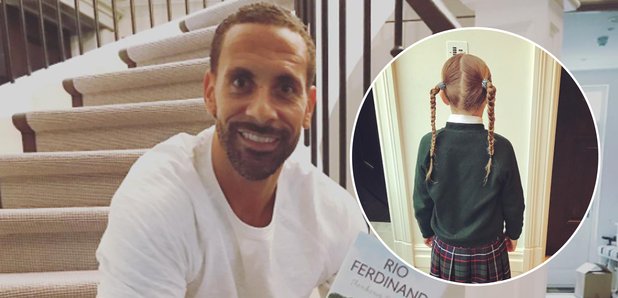 Father of three, Rio Ferdinand explains to heart how he's adjusting to life as both mother and father since losing his wife Rebecca.
Juggling three children isn't an easy job when there are two parents in the household but for Rio Ferdinand, the balancing act of being two parents is something he's learning more about every day.
In 2015, the ex-footballer was struck by tragedy after his wife Rebecca passed away at the tender age of 34 after battling breast cancer.
Rio has since found himself taking on the role of both mum and dad, and while raising his kids is a joy, he admits there are some skills he just hasn't quite been able to get the hang of just yet.
While he's mastered the art of the school run, the former footballer admits that his daughter hasn't been impressed so far with his braiding skills, not to mention picking out her clothes.
"My little girl says 'no, what you doing dad? The plait isn't tight enough!' 'It's not central' or 'Dad what is that outfit you just picked out for me?' But it is funny, it is a laugh, it does lighten the mood a lot of the time." Rio tells heart online.
Playing hairstylist and fashion guru are just some of the new skills he's found himself having to pick up, and is just one of the touching issues he talks about in his new book Thinking Out Loud: Love, Grief and Being Mum and Dad.
"There are so many different things, like getting the kids ready for the school run can be quite daunting I think. As men, some of us think we're doing a great job as a parent, you know we come down when the breakfast is all ready and they're dressed and we take them to school and think we've done our job, when really we're probably doing 10 percent, sometimes the easiest 10 percent."
Rio was married to his wife Rebecca for six years, during which time he had a glittering football career which saw him play for Manchester United and represent England in three World Cups.
Now the sportsman admits that finding the balance between being the fun parent and the disciplinarian is something that's taking some adjusting to.
"Once you've been thrown into my position where you find yourself having to do both it's hard." Rio explains.
"Having to maintain the balancing act of being the good cop and the bad cop has been quite hard as well, obviously, my wife was the tough one. I wasn't in the house that much because I was always playing football, so when I came home I wanted to be the good cop - and I was, but now I have to be both. Finding that balance has been testing."