Rio Ferdinand reveals his plans to wed Kate Wright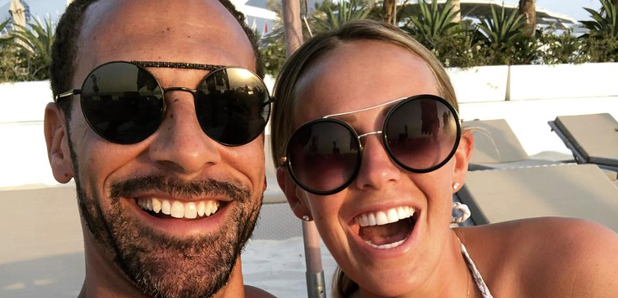 The ex-England footballer and his TOWIE girlfriend Kate Wright are totally loved up.
Rio Ferdinand has revealed that he is planning to propose to his girlfriend Katie Wright.
The 39-year-old retired footballer is keen to take his relationship with the former 'The Only Way is Essex' beauty to the next level in the near future by popping the big question.
The pair have been dating since 2016 and are so loved up.
Speaking to the Daily Star newspaper, Ferdinand said: "We do talk about it [getting engaged and getting married]. But I'm not going to sit here and give you a date."
The ex-England star fell more in love with Katie when he saw how good she was with his children Lorenz, 11, Tate, nine, and Tia, seven - whom he has with his late wife Rebecca Ellison - and he likes that she has a "softer touch" with them.
Ferdinand was left heartbroken in 2010 when his wife Rebecca tragically passed away from breast cancer and he single-handily raised his kids alone until he met Katie.
He revealed: "My relationship with Kate has helped in that they have got a female in the house now. They run past me sometimes to go to her. I've had to go through a period of being very, very open, and men aren't normally like that naturally.
"So having that extra person in the house who is female, who has that softer touch, I think is vitally important for the kids."
Rio's kids have adapted well to having Katie around and now refer to her as their "step mum" and have even asked her when she's going to give them a sibling.
She explained: "It's really funny because at the beginning i could never imagine the kids would talk about it. It started with Tate when I went to the school saying: 'Oh that's my aunt who is picking me up' then 'that's my dad's girlfriend' and now he says 'it's my step mum. And now, I would say on a daily basis they go: 'Oh when're you giving us a brother or sister? They ask if we're having a baby yet and I say no!"