Robbie Williams Shares Health Scare As He Fights Mystery Illness In Hospital
25 October 2017, 08:29 | Updated: 12 July 2018, 13:59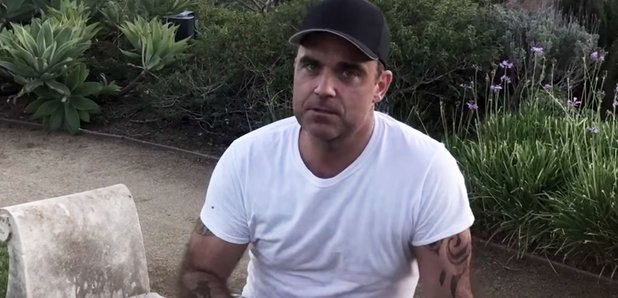 The 'Rock DJ' hitmaker has taken to his social media to tell fans of 'worrying test results' that forced him to cancel the last two dates of his tour.
Fans are concerned for the state of Robbie Williams' health after he opened up about some 'worrying test results' on social media.
In the video featured below, the 'Angels' hitmaker raises alarm bells as he speaks about his health, revealing how he ended up in intensive care after being struck by a mystery illness which forced him to cancel the last two dates of his European tour.
Robbie decided not to mention what the illness was but fans were left fearing the worst as he revealed: "I got some test results.
"They were very worrying and I ended up in ICU (Intensive Care Unit)."
The star, who is recovering at his home in Los Angeles, asked fans to forgive him as he stressed: "I haven't pulled out of a tour for bad health since 1998. So you know if I can't do it then there's something going on that I just can't do it."
Robbie also mentioned his tour, which saw him cancel the last two shows in Russian cities Moscow and St.Petersburg, had been going "really well" before the illness "kicked in."
The scare came after he spoke out about the perils of fame, saying he feared his job would kill him.
Fans have since taken to his Twitter account to share their well-wishes.
I'm so glad you're ok. You mean the world to us all and we love you, always have, always will xx

— H... (@Heather_1705) October 24, 2017
Glad you're feeling better now! I was really worried about you. Love you so so much

— Anna (@Candy_Thatter) October 24, 2017
So glad to hear you are getting better. you had us all worried. Take care of yourself. we all love you

— Linda K (@LK_Lady_Kat) October 24, 2017
In the video Robbie gave fans some reassurance, admitting that while he is still not back to full health he was "nearly there".
Get well soon Robbie!