This Video Of Robbie Williams Wearing Nothing But A Cake Is A Gift From God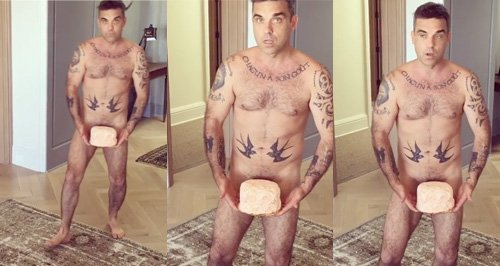 Robbie Williams has us rolling on the floor laughing in this hilariously cheeky shot...
Who wants cake? We do!
We've suddenly got a sweet tooth for a slice of cake after Robbie Williams went completely starkers in a new Instagram video.
The treat, which was uploaded by his wife Ayda Field, sees the cheeky singer stripped down to his birthday suit as he covers his modesty with the baked good covered in cream frosting.
The hilarious video followed an earlier posts in which Robbie and Ayda had been playing a game of 'Would You Rather', in which the 'Rock DJ' singer said he would rather have invisibility over the power to eat sweets without getting fat.
Robbie chose invisibility and thinking he's invisible, he walks on camera naked.
"Look, floating cake! I'm invisible," shouts Robbie.
Erm, no Robbie. You're really NOT invisible.
Robbie has never been the shy type, however even the cheeky singer soon became aware that he might possibly reveal a bit too much as he carefully tip toed off camera.
To be honest when we weren't laughing, we were DROOLING!