Robbie Williams Reveals His New Tattoo In Honour Of The Late Roger Moore
12 June 2017, 11:43 | Updated: 12 June 2017, 15:01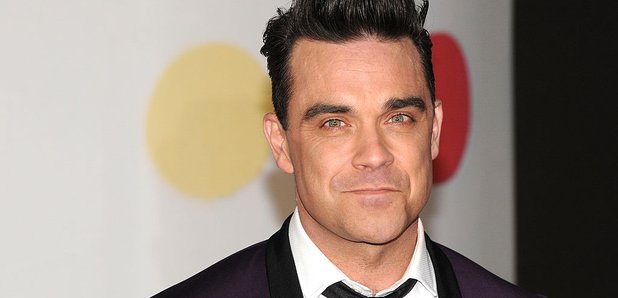 Now that's the way to pay tribute!
"Y'all know who I am, I'm still the boy next door / That's if you're Lord Litchfield, or Roger Moore."
So sang Robbie Williams on his song 'Handsome Man', taken from his brilliant 2002 album Escapology. The singer always been a huge fan of the late James Bond actor, who sadly passed away at the age of 89 last month.
And now it seems Robbie has paid tribute to his hero in true style. A fan spotted his new tattoo at a recent concert and took the snap below, which has been doing the rounds on Twitter. It depicts the symbol from The Saint, the spy series in the which the star played the lead role between 1962 and 1969.
:O
Tatouages : Robbie Williams rend hommage à Roger Moorehttps://t.co/3FcUBYxwtY@robbiewilliams #RogerMoore #TheSaint #Tattoo pic.twitter.com/yEUbvbsZci

— Robbie Williams Live (@rwlfr) June 7, 2017
Robbie has said in the past that he wanted to be James Bond and sampled the theme from the 1967 Bond movie You Only Live Twice on his 1998 single 'Millennium'. Last year Robbie put his name to a brand of coffee that used an image of him dressed as James Bond on the packet and was accompanied by a very Bond-esque TV advert . Talk about a super fan!
Tributes to Roger Moore flooded in from other actors who have also played James Bond when the news broke of his death. Piers Brosnan wrote on Instagram: "Dear Sir Roger Moore, It is indeed with a heavy heart that I hear the news of your passing this morning.
He added: "You were a big part of my life, from The Saint to James Bond... you were a magnificent James Bond and one that lead the way for me, the world will miss you and your unique sense of humour for years to come."
One thing's for sure: there are few who would disagree that Roger Moore was the funniest James Bond.
And if you're going to see Robbie live, remember to keep an eye out for his tattoo of The Saint!