Robbie Williams Squeezes Back Into THOSE Infamous Pants After Teasing New Album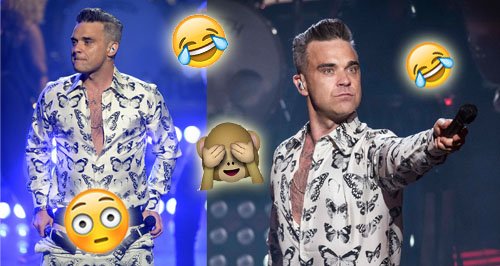 Who could forget those infamous budgie smugglers?
If there's one person who knows how to entertain a crowd, it's Robbie Williams, and the cheeky singer got his fans all fired up after stripping down to his pants on stage.
The 42-year-old star took to the stage to headline his own set at iTunes Festival at London's Camden Roundhouse, where he treated his fans to a string of his hits and an eye-popping display of his, ahem, nether regions.

(Picture: Getty Images/Dave J Hogan) Robbie delighted fans by stripping down to his tiger pants during his performance at iTunes Festival
Showing off his muscular figure in a matching butterfly suit combo, Robbie shockingly stripped off his trousers to reveal the infamous tiger pants he wore in his 2000 music video for 'Rock DJ.'
As if that wasn't enough, the cocky singer (excuse the pun!) began grabbing at his package, seemingly impressed with his manhood.
Of course, fans went wild, taking to social media to share videos and clips of the racy scenes.
The packed out crowd included a number of A-list guests including the likes of Ellie Goulding, who along with frenzied crowds probably watched on in awe.
Robbie's drool-worthy display comes after he revealed he will be releasing his 11th studio album in November after a teaser aired during the ad break of Saturday night's 'X Factor'.
The sizzling teaser, sees Robbie appear as a boxer fighting himself as both opponents. The advert also sees him singing and dancing in the ring dressed in a snazzy tuxedo surrounded by some beautiful women.
(Credit: Youtube) Robbie teases his new video for 'Heavy Entertainment' during Saturday nights 'X Factor'.
The album, which will be released on November 4, will be Robbie's first in three years with the title track 'Heavy Entertainment' already available for download following the ad's debut.
Judging from some of the famous credits on the album, it could be one of Robbie's best with the likes of Ed Sheeran and frontman of the Killers, Brandon Flowers all making appearances.
We can't wait!