Recipe For Romance! The Essential Ingredients For The Perfect Romantic Movie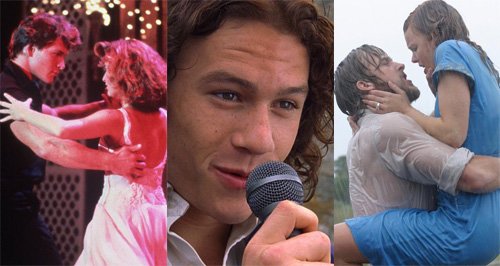 Dashing gentleman. Check. Loveable but brilliant leading lady. Check. A snog in the rain. Errrr check. If romantic movies have taught us anything it's that a handful of key moments are all you need for love story success. Here's our take on the essential ingredients needed for all good romantic movies in gifs…
The Dashing Leading Male
From Leonardo DiCaprio in 'Titanic' to Ryan Gosling in 'The Notebook', all great romantic movies have a handsome, misunderstood man at their centre. The best films show the leading male going through a transformation, like falling for the girl from the other side of town, getting their act together to win back their love, or learning to apologise when something goes wrong.
The Gorgeous But Awkward/Clumsy Leading Lady
Loads of leading ladies are beautiful, brilliant, but annoyingly they're always written with a flaw…like Bella Swan who falls over her feet every 10 minutes. Of course, there are also the 'she likes to eat food so she must be cool' characters (see Kate Hudson in 'How to Lose a Guy in 10 Days' below). Fortunately, Kristen Wiig and Amy Schumer are shaking things up...
The Initial Meeting
All great romantic movies have a meet-cute, like when Brad Pitt bumps into Claire Forlani in 'Meet Joe Black'. Some of our other favourites are in 'The Holiday' when Jude Law drunkenly knocks on Cameron Diaz's door drunk, and Gene Kelly jumping into Debbie Reynolds' car in 'Singin' in the Rain'.
Some Corny Chat-Up Lines
No romantic movie is complete without corny chat-ups and one liners, like 'you had me at hello' from 'Jerry Maguire' and 'love means never having to say you're sorry' from 'Love Story'.
One Big Old Misunderstanding
If couples don't have a big falling out, how can they make up in the most spectacularly sexy way possible?! 'Pride & Prejudice' has the ultimate example of an 'it's all gone horribly wrong' scene, when Mr Darcy says that he likes Lizzie against his better judgement. Ouch. Fortunately, it was all one big hiccup and it all ends wonderfully…
An Impromptu Dancing/Singing Scene
If you stop and think about it, it's amazing how many romantic films have singing and dancing scenes for no reason whatsoever! One of our favourites is Katherine Heigl and James Marsden in '27 Dresses' and the infamous 'Thriller' scene in '13 Going On 30'. Brilliant.
See What We Mean…
How could we forget about Hugh Grant in 'Love Actually'?! And what about 'I Say a Little Prayer' in 'My Best Friend's Wedding'? There's so many amazing moments we can't keep track.
The Run-And-Jump Kiss
If we tried this with our partners we'd probably knock one another out cold and end up in A&E. The run-and-jump kiss is the ultimate cheesy Hollywood kiss, with the trick appearing in 'The Notebook', 'PS I Love You' and 'Practical Magic'. Ahhhh...
Or Even Better…A Kiss In The Rain!
We're not sure what's so sexy about standing in the pouring rain with water in your socks, but it's a common weapon in the romantic movie arsenal. Perhaps the most famous examples are Kirsten Dunst and Toby Maguire in 'Spiderman' and pretty much every kiss from a Nicholas Sparks movie ('Dear John', 'Safe Haven', 'The Notebook'…you get the idea).
The Grand Gesture
Just like Hugh Grant declaring he works for 'Horse and Hound' magazine to speak to Julia Roberts in 'Notting Hill', all great love stories have a grand gesture moment. Heath Ledger singing 'Can't Take My Eyes Off Of You' in '10 Things I Hate About You' will go down as one of the best moments in a rom-com, as will Drew Barrymore standing in the centre of the baseball pitch (Court? Field? We have no idea) in 'Never Been Kissed'. Swoon!
Standing Up To The Parents
It doesn't matter whether the movie is a typical teen rom-com or a very adult romance, there always seems to be a parent meddling. That's why the best romantic films include someone standing-up to the parent characters, like Patrick Swayze in 'Dirty Dancing'.
The Declaration
It's what we all wait for, the big romantic declaration of love at the end of the movie. Normally, these scenes include tears, tantrums and some very passionate kisses! This is done brilliantly in 'Atonement', 'Say Anything' and, of course, 'Silver Linings Playbook'.
The Look To The Future
Keira Knightley and Matthew Macfadyen famously filmed a US-only ending to 2005 film 'Pride & Prejudice' because they knew the American audience wouldn't be satisfied with the abrupt British ending! In fact, loads of our favourite romantic films include a flash-forward scene, like 'Notting Hill' and 'Something Borrowed'.
Or The Really Weepy Ending. Sob!
Sometimes writers torture us with the saddest endings to movies EVER! 'PS I Love You' made us cry, as did 'A Walk To Remember', 'One Day' and even 'Edward Scissorhands'…just hearing the music makes us tear up!
Heart and Plusnet are showing the love by giving you the chance to win a tech bundle by loving someone back, click here to enter.