Rowan Atkinson's Funniest Ever Moments
6 January 2015, 16:28 | Updated: 12 July 2018, 13:59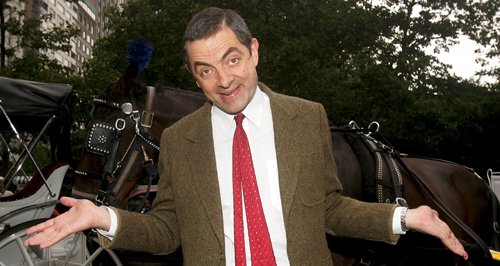 From Blackadder and Mr Bean to Johnny English and Love Actually, Rowan Atkinson has spent his career making us belly laugh. So as the legendary British actor celebrates his 60th birthday today, we take a look back at his most hilarious scenes.
Funnyman Rowan Atkinson celebrates his 60th birthday today!
But instead of chomping down on a scrummy piece of cake in honour of the British actor, we're clutching our stomachs and wiping away the tears of joy as we look back at his most hilarious on-screen moments from the last 30 years.
The early 80s saw the birth of this much loved character...
1. Blackadder
2. Mr Bean
Then came the awkward and equally hysterical Mr Bean who first appeared on telly in 1990 on New Year's Day. The expressive character was a huge success and led to sequel after sequel being commissioned to please the show's legion of cult fans. The beloved Mr Bean eventually landed Atkinson two films, 'Bean' and 'Mr. Bean's Holiday', in which his gangly creation embarked on a series of absurd adventures with consequences you couldn't predict even if you tried!

3. Father Gerald
A few years later and one of our favourite ever Rowan Atkinson cameos happened - his skit in the 1994 Richard Curtis hit 'Four Weddings And A Funeral'. Need we say any more other than please watch it from beginning to end right now!
4. Johnny English
Next up was this chap. Merging his back catalogue of characters together, Atkinson came up with yet another brilliant character in Johnny English who starred in two James Bond parodies. The clumsy MI5 agent, modelled on 007 himself, lacks the smooth, sharp-witted nature of the classic British spy but somehow conquers all through sheer luck and perseverance!
5. Gift-Wrapping Rufus
He may not be one of the lead characters in Love Actually, but this has to be one of our favourite rom-com scenes!
So, Happy Birthday Rowan and here's to 30 more chuckle filled years!