Roxanne Pallett STILL hasn't apologised to Ryan Thomas after CBB 'punchgate'
18 September 2018, 17:31 | Updated: 18 September 2018, 17:33
Corrie actor told This Morning hosts he hasn't received a letter from the shamed actress - despite claims she had given it to him.
Ryan Thomas says he still hasn't received an apology from Roxanne Pallett following the punchgate incident on Celebrity Big Brother.
The Corrie actor, 34, appeared on This Morning with his girlfriend Lucy Mecklenburgh for their first ever joint interview.
During the chat he was asked about the incident and revealed to hosts Phillip Schofield and Holly Willoughby that he is yet to receive an apology letter from Roxanne.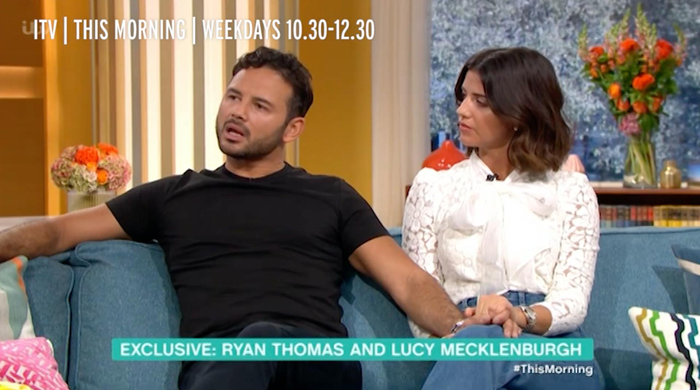 Ryan and Lucy appeared on This Morning for their first ever joint interview
Phillip Schofield was skeptical about the existence of the letter, saying it was strange that Ryan hadn't received it, even though he'd been notified about it.
Ryan then spoke about the effect the whole incident had on him, saying he'd felt isolated and not known why.
He also said that, despite going through a tough time in the house due to Roxanne's complaint, he didn't want to make the situation any worse for her.
The Corrie actor said: "I remember the first time I felt isolated was when people were starting to not give me the time of day, and not involve me and it felt weird. But also I thought it was something to do with me, I though I was having a bad day, I was tired and I blamed myself for that...
"Even when she stayed in a separate room I thought it was an argument between her and Ben, I didn't know it was something to do with me."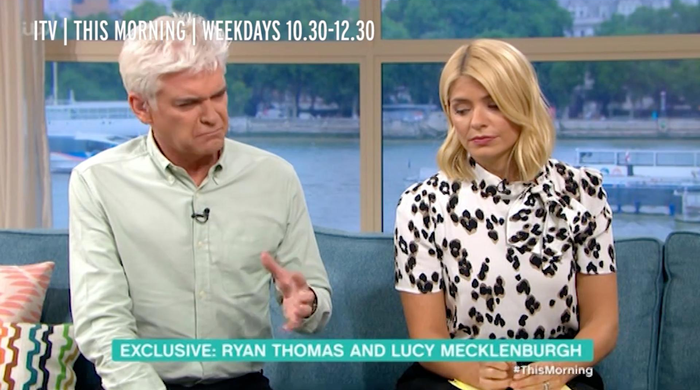 Phillip Schofield appeared skeptical about the letter that Roxanne has written to Ryan
Roxanne has since admitted that she made a mistake and the viewing public have turned against her for making the false claim.
Meanwhile, Ryan's girlfriend Lucy Mecklenburgh spoke about her frustration at seeing him fall foul of Roxanne's accusations.
The former TOWIE star said: "It was horrible, I got into my car a few times because I wanted to drive there and drag him out. The hardest thing was knowing the support he had and he didn't know... I think they should have revoked the warning.
"It was showing the footage, I really just hoped they did and if there wasn't those chants, when were they going to tell Ryan? That was the hardest thing. It's a reality TV show, they have to let things naturally unravel but I did think it was too long.
"I think Ryan will never know how massive it was - but the support, that's one thing I wanted to show Ryan the next day… everyone hugs him shakes his hand in the street."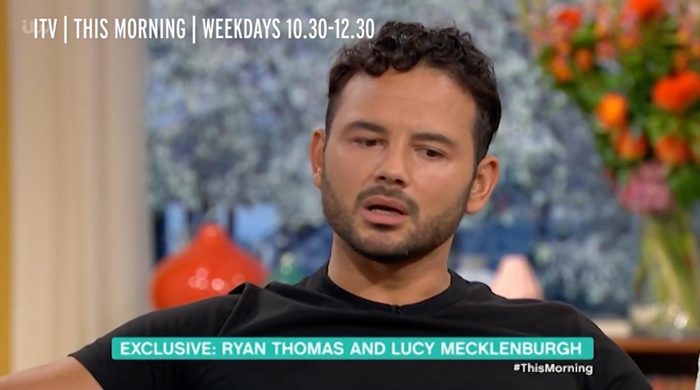 Ryan was accused of punching Roxanne in the ribs deliberately and repeatedly
Last week Roxanne appeared on Channel 5's Jeremy Vine Show to make an apology to Ryan.
She accepted that what she'd said about him was wrong, and issued an unequivocal apology to Ryan, his family and friends.
Displaying visible signs of her emotional state, the Emmerdale actress said: "At the time it hurt, but when I look back on that footage, as soon as I left the house the first thing I did was view that clip and I got it wrong I really got it wrong.
"After it happened I felt like, I don't know how to explain it other than my mind ran away with me, I am a sensitive person only family and friends can vouch for that.
"Everything in that house becomes so heightened, a look, a comment, an action. Your insecurities are heightened, your sensitivity, only thing I can explain it with is it felt worse than it was."
She admitted that using the word deliberate was a mistake and also accepted that he had apologised to her, blaming her own insecurities and sensitivities for causing the whole debacle.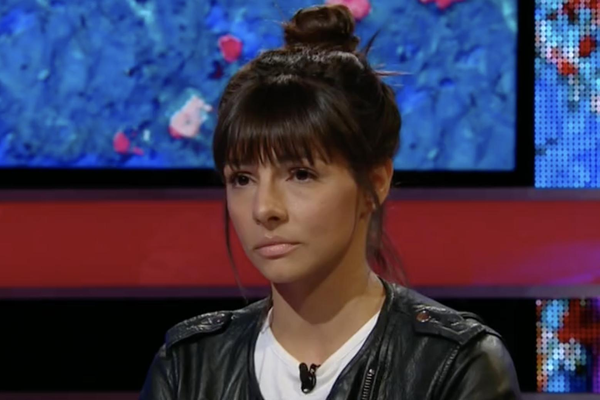 Roxanne was also interviewed by Emma Willis about her mistake
Finally, she apologised to Ryan for the error of her ways.
She said: "I can't apologise enough to Ryan and everyone attached to him. I don't think I realised how sensitive I was. We're all kind of used to the people around us taking it as normal, they're used to it.
"But because I was taken out of my family environment - they didn't know what I'd been through, my feelings, my thoughts. They didn't know my Richter scale. The people judging me and rightly so accused me of being dramatic and overreacting and almost discrediting Ryan.
"It is a horrible mistake. I hope that people can forgive me, and Ryan can forgive me in time."