Sam Faiers Responds To Backlash Over Dieting When Breastfeeding
31 January 2018, 08:51 | Updated: 19 October 2018, 20:09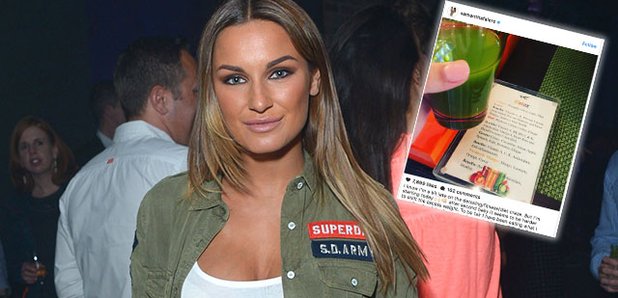 Sam has come under fire for her new method of shifting her baby weight.
In November Sam Faiers gave birth to her second child, Rosie, and has received nothing but comments of adoration from her fans.
But things made a turn for the worst following the TOWIE star's most recent post, which explained that she has started a new detox diet.
Posting an Instagram image of a healthy juice drink, she wrote alongside it:
"I know I'm a bit late on the detoxing/fitness/diet craze. But I'm starting today after second baby it seems to be harder to shift the excess weight. To be fair I have been eating what I want & only minimal exercise."
She the explained: "I am going to try a 5:2 diet 2 days juicing (NOT fasting) & 5 days eating super healthy. I have heard really good things about it. And it's totally healthy for us breastfeeding mums. I will keep you all posted on how it's going."
But fans weren't all that supportive of her new diet, whilst breastfeeding, with one commenting: "You should never diet when breast feeding".
Another added: "Sam I don't think you will be able to sustain breastfeeding on the 2 x 500 calories days".
Others questioned whether it was ok, with one fan writing: "Would that be a healthy diet while breastfeeding?"
Proving she's read up on her new regime, Sam responded saying: "I have researched & it's absolutely fine. If anything it's better for your supply as it's packing you out with vitamins & nutrition x."
As the comments continued to flood in, she added: "There has been a miss understanding, I'm NOT fasting for 2 days, I'm going to JUICE for 2 days & eat super healthy for 5. It is completely safe & really healthy x".
Well, that set the record straight. Either way, you look great, Sam!
Watch more: