Scarlett Moffatt Confirms Heartbreak After Boyfriend Dumps Her On Her Birthday
19 October 2017, 08:01 | Updated: 19 October 2017, 08:03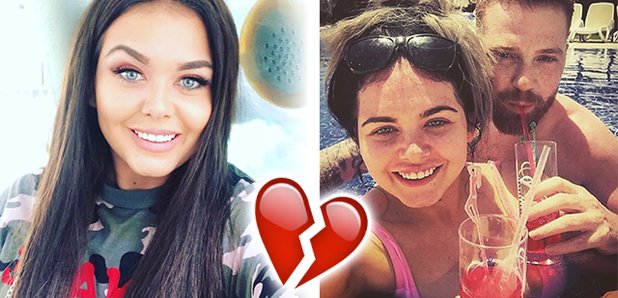 Poor Scarlett!
TV star Scarlett Moffatt has revealed that she has split up with her hairdresser boyfriend Luke Crodden and is now single again.
This is sad to hear in itself, but the chirpy Geordie star revealed that it was his decision - and he had called it off on her birthday.
Scarlett took to her Facebook page yesterday to inform her fans.
The post (which has now been deleted) was a lengthy one, and read:
"I'm gonna have to write it because I feel a bit awkward as I've done some interviews about him being in my book that aren't out for a while due to timings of the magazines … but me and Luke have finished due to a number of different things.
It was Luke's choice in the end but it's because we both just see each other in more of a friendly way than a romantic way and we both respect and love each other enough to know we need to call it a day and not be one of those couples that's off and on.
So it's not that I'm being a crap girlfriend and not mentioning him, it's just we are no longer together.
I wish him all the luck and happiness in the world, just sometimes these things happen (Happy Birthday Scarlett by the way ha)."
WATCH: Hilarious Moment Ant Tricks Dec On I'm A Celeb:

The pair had known each other for a few years before they started dating, but rekindled their friendship (this time with an added sparkle of romance) in January last year and had moved from Newcastle to London to live together. However, after only 3 months of co-habiting the couple split, which was rumoured to be down to her busy workload.
Scarlett then confirmed they were back together just a few months ago, but sadly it has come to an end once more.
Her caring fans have flooded her social media pages with love and support, and even shared with the star their own personal experiences:
I got dumped on Saturday and it was my birthday yesterday. We deserve better someone that makes us smile instead or cry

— Jade Polley-Smyth (@wee_jade22) October 18, 2017
Despite all this, Scarlett seemingly had a great birthday, and revealed on This Morning that she had accidentally drunk a Pina Colada cocktail on her 9th birthday.
Many of her celebrity friends took to Twitter to send birthday love, including Strictly presenter Zoe Ball:
Happy birthday gorgeous beaut

— Zoe Ball (@ZoeTheBall) October 17, 2017
The TV star rose to fame for her quick wit and funny one-liners on the successful show Googlebox, and went on to be crowned queen of the jungle in I'm A Celeb last year. She's bagged some seriously cool presenting jobs including slots on Saturday Night Takeaway and at the NTA's, and has now released a book titled 'Me Life Story'.
Sending you all our love, Scarlett!