Scarlett Moffatt Inspires Her Fans With This Honest Make Up Free Selfie
18 December 2017, 11:51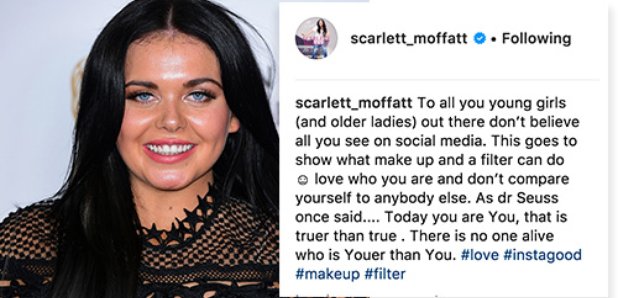 The Geordie beauty's latest Instagram post is more than just a selfie.
The 27-year-old Geordie presenter has become a national treasure within the past year and Scarlett Moffatt seems to be only growing in popularity.
But it's no wonder that people love her as she is relatable, honest and totally real when it comes to discussing important issues and her latest Instagram upload is an example of that.
She posted two selfies side by side, one totally make up free and one with make up and a filter over it in order to show how things can appear on social media vs what things actually look like in real life.
In a caption posted alongside the photo she said: "To all you young girls (and older ladies) out there don't believe all you see on social media. This goes to show what make up and a filter can do love who you are and don't compare yourself to anybody else."
She also finished with an inspiring Dr Seuss quote to remind people to be themselves and not concentrate on the appearance of others.
"Today you are you, that is truer than true. There is no one alive who is youer than you".
Wise words Scarlett! Thanks for getting the week off to an inspiring start.