REVEALED: The Secret Signals Cabin Crew Use To Talk About You On A Flight
12 May 2017, 14:54 | Updated: 12 May 2017, 15:14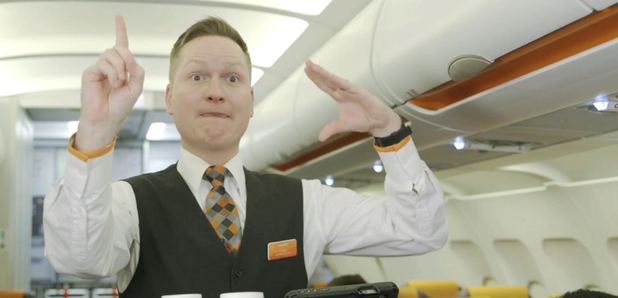 EasyJet have shared a video that explains EVERYTHING.
Have you ever seen cabin crew making strange signals at each other on a flight? Acting like chickens, perhaps? Or raising their hands above their heads to pretend that they have antlers? We now know why!
The secret signs used by EasyJet staff are revealed in the video below. The video is very revealing, and should put your mind at rest if you've ever been confused by a member of the crew making strange signals at the start of your holiday.
It turns out that the chicken sign is a signal that a customer has ordered a chicken Caesar baguette – which is perhaps not too much of a stretch of the imagination – while touching your nose with one finger while you raise the other in the air means someone's asked for a bacon sandwich. Personally we'd oink like a pig instead, but perhaps that why we're not the professionals.
Anyway, it seems that the airline has shared the secrets in a bid to put passengers at ease – which is a nice move all round.
It's also been revealed that the antler signal is a sign that there's a stag do onboard – warning!– and a croque monsier is conveyed when a member of the cabin crew snaps their jaws.
EasyJet head of cabin service Tina Milton says: "With over six million passengers served each month, the 'secret code' has been invented to enable our cabin crew to deliver a speedy and efficient service, whilst keeping unnecessary crew noise to a minimum and provide passengers with a relaxing and enjoyable flight."
Probably our favourite secret signal, though, sees staff act like a mime artist, which means that someone is stuck in the toilet! Let's hope no-one has to do that on your behalf next time you fly!