Simon Cowell Reunites Family With Their Lost Dog By Offering THIS Reward
15 January 2018, 15:41 | Updated: 15 January 2018, 15:43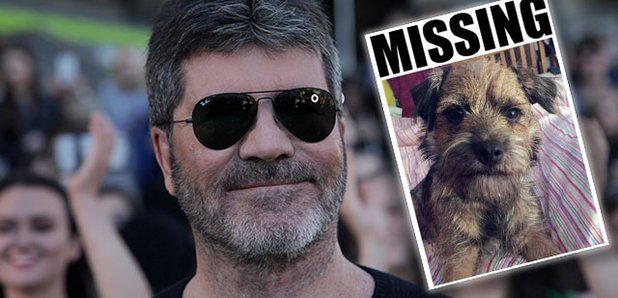 Simon Cowell proves he truly is a dog-lover with this selfless gesture...
We all knew that Simon Cowell was a dog lover, what with him constantly going gooey-eyed over every dog that enters the studio on Britain's Got Talent.
And now the dog owner of pets, Squiddly and Diddly, has offered an immense amount of help for a family that lost their dog.
In an attempt to rescue a border terrier, named Morse, who was dog-napped outside the family home, Simon offered an impressive £10,000 reward to whoever could shed some light on where Morse got to.
@SAMPAuk_ @BTslostfound @lostfoundkent @HelenGrantMP @SimonCowell
Thank you so so much Mr. Cowell. We will forever be in your debt for your generosity. #SimonCowell has put up £10,000 to help find Morse. If anyone knows anything at all, please email the address on the poster. pic.twitter.com/FBT99D2Dmx

— Richard Latter (@r_latter) December 22, 2017
The owners Richard Latter, Amanda Hopkins and their three-year-old son, Edward extended their thanks to Simon, whose grand gesture eventually led to them finding the dog.
Richard tweeted: "Mr. Cowell has done this for no other reason than the kindness of his heart. In fact, at first he wanted to stay completely anonymous."
If anyone sees a young Border Terrier in the Marden Kent area, please get in touch. He escaped out of our garden yesterday morning and have not seen him since. He is very very friendly and will come and say hello if he sees you. We are worried sick. Thanks everyone pic.twitter.com/SoheVyLKLt

— Richard Latter (@r_latter) December 14, 2017
Talking about his generous offer, he told the MailOnline "It's unbelievable. It is really, really, generous… It is so good of him.
"After I found out I put the phone down and had to stop for a couple of minutes to take it all in. I can't believe the generosity of it."
In a heart-felt Facebook post, Amanda added: "He was found on the street in Meopham and taken in by a lovely family who bathed and fed him and then trawled the internet for lost dogs.
"Morse was vet checked yesterday morning and although he is a bit thin and his pads are worn, he seems to be in good health if a bit subdued."
"We are all over the moon. Thank you to everyone who has helped to bring him home. Your support has been unbelievable."
Simon has gone soft in his old age, and we're all for it!
Watch more: