Simon Thomas Shares Heartbreaking Moment He Told His Son His Mum Died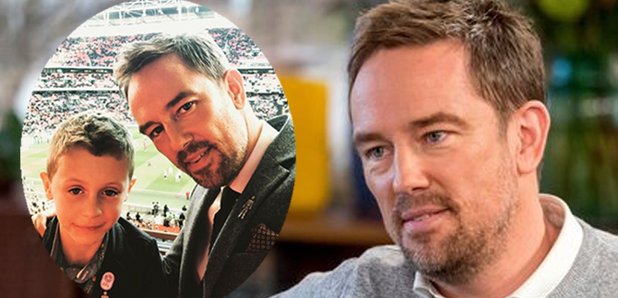 The TV presenter opened up on This Morning about the devastating moment he broke the news to his 8-year-old son that his wife Gemma had passed away.
Holly Willoughby wiped away tears today on This Morning as TV presenter Simon Thomas opened up about the heartbreaking moment he had to break the news to his son that his mum had passed away.
Simon's wife, Gemma, died three days after a dash to A & E following a period of severe headaches left her with a diagnosis of acute myeloid leukaemia.
He recounted to Holly and co-host Phillip Schofield the moment he had to break the devastating news to his 8-year-old son Ethan.
He said: My heart was pounding. He went in to see her twice that day. I didn't tell Ethan she was going. I said, 'Mummy is seriously ill' and I held him to her ear a couple of times and he said he loved her and [then] he went to play with his cousins."
Fighting back tears he explained: "I looked into his deep brown eyes and said Ethan I'm really sorry they couldn't make mummy better. You can't dress it up. Mummy's died."
"He collapsed onto the floor. I collapsed with him. I just held him. I would never wish that on my worst enemy."
Simon praised his sons resilience following the sudden death of his mother and also discussed the ways he is helping him everyday.
He spoke about the messages he leaves in his son's lunchbox in the morning - he calls them 'snack notes' - as a reminder of how proud he is with how he has cope as well as notes reminding him of his mother and continuing to include her in his life.
Many have praised Simon's bravery throughout what has been an incredibly tough few months as he opened up and shared his story about his wife's battle as well as his own.