Single Mum Ferne McCann Opens Up About Stressful Pregnancy In Teary Trailer
28 November 2017, 16:22 | Updated: 12 July 2018, 13:59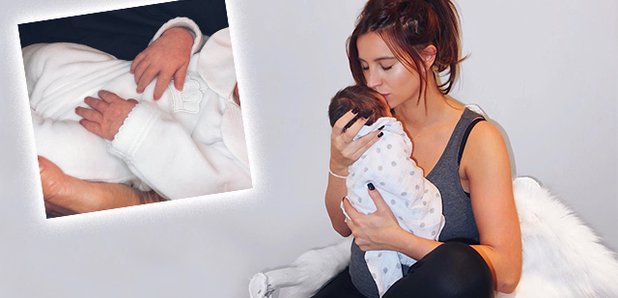 Fearne reveals all about her pregnancy journey and life as a single mother in a warts and all documentary.
What a rollercoaster year it has been for Ferne McCann who announced she was expecting her first child back in April.
But it hasn't been smooth sailing for the TOWIE star as the father of her baby and ex-partner, Arthur Collins, who has been found guilty of carrying out an acid attack in a packed London nightclub.
Since then Ferne has shown she's made of strong stuff and has seen being incredibly open about how she has been tackling motherhood alone as part of her brand new TV show.
The show is being aired on ITVBe and is called Ferne McCann: First Time Mum.
In a candid piece to camera segment, the ex TOWIE star tearfully reveals: "Being pregnant has been the most fulfilling thing ever but you do want to share this with the person you created this life.
"There's not a day that's gone by where I haven't cried.
She continued: "I don't think you realise how much strength you've actually got.
"I've got another human being coming into my life who's going to be solely reliant on me."
Fans are also treated to a glimpse of her tot's baby scans and candid behind the scenes snapshots of pregnancy photoshoots.
The trailer comes after reports the 27-year-old was in talks with TV bosses to have a 'warts and all' and apparently wants to get the wheels in motion before her due date in November.
A source revealed: "Ferne has got an all-female team on standby ready for the baby to make an appearance, made up of friends and birthing partners, midwives and an all lady TV crew at the ready."
Ferne has already confirmed that in the absence of the child's father, her mum was her birthing partner.
On the subject of being a single mum, she told OK! magazine: "I don't think about that now because my mum is my birthing partner," she told OK! magazine."
"I don't dwell on how different it could have been. Obviously there are moments when that does cross my mind, but I'm just focusing on the positives.
"In life you're dealt the hand that you're dealt, and you actually really surprise yourself with how much you can cope with."
WATCH: Ferne McCann Reveals Her Pregnancy Work Out