Sir Christopher Lee Dies At 93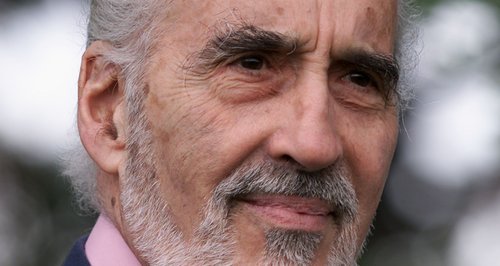 The iconic actor famous for his roles in 'Lord of the Rings', 'Star Wars' and Count Dracula in 'Hammer House Of Horror', has passed away in hospital after suffering respiratory problems.
Sources close to his family have revealed that Sir Christopher Lee died at 8.30 am on Sunday morning at London's Chelsea and Westminster Hospital after being treated for respiratory problems and heart failure.
It's reported that Lady Lee, who had been married to the actor for 50 years, delayed the announcement of his death until his closest family members had been informed. Christopher also leaves behind his daughter Christina Erika Lee.
Sir Christopher Lee was presented with a knighthood by Prince Charles in 2009 for his services to drama and charity. The movie legend's career spanned six decades during which he also starred as Count Dracula in 'Hammer House Of Horror' and as one of the greatest Bond villains Scaramanga in 'Man With The Golden Gun'.
10 Fascinating Facts About Sir Christopher Lee
He is the only actor to have played both Sherlock Holmes and Mycroft Holmes.

He has released two heavy metal rock albums, one of which was a metal version of Frank Sinatra's 'My Way'

In 1941 he joined the RAF as a flight lieutenant serving Europe, Malta and Libya

He served in the WWII and was hunted by Nazi's

He was part of a secret service unit the Ministry of Ungentlemanly Warfare

He is fluent in English, Italian and French, German and Spanish

Let's not forget that he is moderately proficient in Swedish, Russian and Greek

Oh and did we mention he is conversational in Mandarin Chinese as well?

He has worked for director Tim Burton five times including 'Corpse Bride', 'Sleepy Hollow' and 'Charlie and The Chocolate Factory'

He received a knighthood in 2009 for his services to drama and charity.
Since news of his death broke, fans, celebrities and friends of the actor have taken to twitter to pay tribute to the late actor.
A true legend has passed. Sir Christopher Lee. pic.twitter.com/MqVqxXtqda

— Paddy Considine (@PaddyConsidine) June 11, 2015
Christopher Lee had one hell of a well lived life.

— Rob Elliott (@Rob_Reddo) June 11, 2015
Aw man, Christopher Lee has died. End of an era – he was the last of the great Hammer stars.

— Andy (@ItsAndyRyan) June 11, 2015