Actor Sir John Hurt Passes Away Aged 77 After Battle With Cancer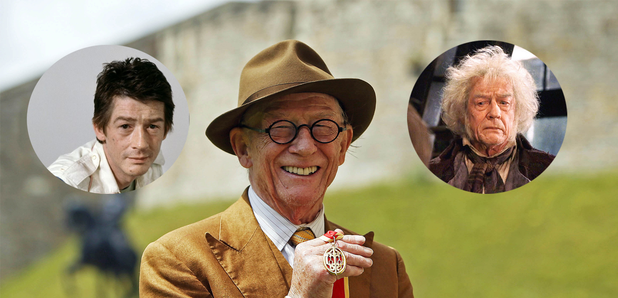 Tributes pour in for the legendary British actor, best known for his roles in Harry Potter and Alien.
The renowned British actor starred in more than 200 films and TV series during an illustrious career that lasted six decades.
He received critical acclaim for his portrayal of Quentin Crisp in The Naked Civil Servant, as well as his performances in The Elephant Man, Alien, and Midnight Express.
Sir John, who was born in Derbyshire, found new fans when he starred as wandmaker Ollivander in the Harry Potter films.
As one of the most loved actors of our generation, he also appeared in two special episodes of Doctor Who to mark the sci-fi show's 50th anniversary in 2013.
His most recent performances was in the Oscar-nominated film Jackie, which was released in the UK just eight days ago.
The actor was knighted by the Queen at Windsor Castle in 2015, when he was midway through a course of chemotherapy for pancreatic cancer.
Sir John won four BAFTA awards during his career, including a lifetime achievement recognition for his outstanding contribution to British cinema in 2012. He was also nominated for two Academy Awards.
Fellow actors and fans alike have taken to Twitter to express their sadness and love for the man. Elijah Wood, who played Frodo Baggins in The Lord Of The Rings trilogy, tweeted: "Very sad to hear of John Hurt's passing. It was such an honour to have watched you work, sir."
Actor Stephen Fry said Sir John was a "great on the stage, small screen and big."
Meanwhile, writer and director Mel Brooks described the 77-year-old as a "truly magnificent talent".
He added: "No one could have played The Elephant Man more memorably. He carried that film into cinematic immortality. He will be sorely missed."
John Hurt was one of the most powerful, giving, and effortlessly real actors I've ever worked with. Remarkable human being. U will be missed

— Chris Evans (@ChrisEvans) January 28, 2017
We are deeply saddened to hear of the passing of John Hurt, who played Mr. Ollivander. Harry Potter fans will miss him very much. pic.twitter.com/xgSjePd4aV

— Harry Potter Film (@HarryPotterFilm) January 28, 2017
Oh no. What terrible news. We've lost #JohnHurt as great on the stage, small screen and big. A great man & great friend of Norfolk & #NCFC

— Stephen Fry (@stephenfry) January 28, 2017
Sir John had continued to work throughout his treatment for pancreatic cancer.
He is survived by his wife Anwen Rees-Myers, who he married in 2005.