Severus Snape's Best Harry Potter Moments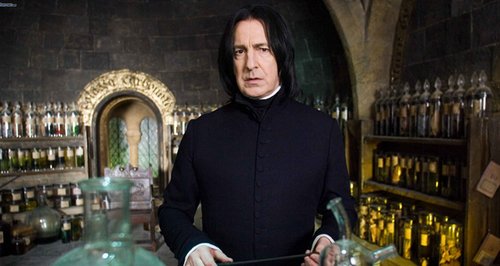 Whilst the world mourns the tragic loss of British actor Alan Rickman, we take a look at one of his most popular characters and why he was so great.
Alan Rickman, the much-loved star of stage, TV and film has died aged 69, after losing a secret battle with cancer.
Alan had one of the most recognisable voices in film and played some of the most memorable characters, such as Hans Gruber in Die Hard, Harry in Richard Curtis' Love Actually and the Sheriff of Nottingham in Robin Hood: Prince of Thieves.
But it was his role as Professor Snape in the Harry Potter series that earned him a massive young fanbase.
Read more: Tributes To Alan Rickman Who Has Died Aged 69
Here, we're celebrating some of Snape's best moments.
Raise your wands for Professor Snape... https://t.co/zoA52Bc1xU pic.twitter.com/7Uuw7Sm3iD

— Heart (@thisisheart) January 14, 2016
1. This moment with Harry and Ron:
2. He's unphased by famous people:
3. We all thought that he hated Harry:
4. But he actually had his back all along because he loved Harry's mum, Lily:
5. He could totally own a room just by walking into it:
6. He kept Hermione in her place:
We love Hermione but seriously, sometimes the know-it-all did get a tad annoying...
7. His hair:
8. Although we don't want to admit it, he gave good advice:
9. And he hated Professor Delores Umbridge too:
10. He's very loyal:
11. He killed Albus Dumbledore so Draco Malfoy didn't have to:
12. And however much we thought we hated him, we were heartbroken when Voldemort killed him:
But nothing makes us sadder than the fact that this will no longer come true...