Stacey Solomon's Latest Video Is The Best Thing You'll Watch Today
7 August 2017, 12:00 | Updated: 7 August 2017, 12:02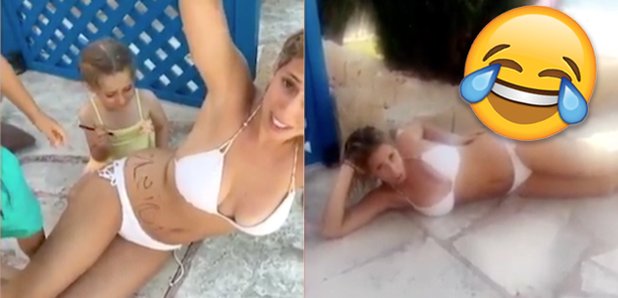 The TV presenter posted an incredibly honest video about bikini body problems that we can all relate to!
August is now in full swing and so are the school holidays!
Many of us will be jetting off with the kids to sunnier places and with the anxiety of organising everything, packing bags and getting there stress free comes the worries of whether or not you're 'beach body ready'.
If your one of those people who is less than thrilled by the thought of spending a week on the beach in a swimsuit then Stacey Solomon's latest video is just the tonic you need.
We love Stacey and how relatable she is to fellow mums who watch her on the telly and this latest upload proves that she is one of us as she pokes fun at the insecurities we all face when putting on our bikinis.
In the hilarious clip she lists the three things she loves most about her body and gives the reasons why and they definitely made us chuckle.
She starts by praising her muffin tops as sprawls out on the floor by the hotel pool saying "not only are they insulating but how could you lay comfortably on a stone floor without the help of these!"
She then praises her 'saggy' boobs and her stretch marks showing that everyone has their insecurities but we could all do with embracing them a bit more exactly like Stacey has done in this video.
The inspirational words from the star don't stop there as she accompanied the upload with a body positive message to her fans which reads as follows:
"SHOUT OUT TO EVERYONE ON HOLIDAY WORRYING ABOUT HOW THEY LOOK! You're all perfectly imperfect and unique and beautiful. I thought I'd make a little holiday video celebrating my society labelled "imperfections" because actually I love them, they're part of me, and they have their uses!
I think if we can all show off our insecurities then we will all start realising NOBODY escapes the world of perfection that we are all under pressure to keep up with and everyone can sleep a little easier at night knowing everyone comes in different shapes sizes etc etc and we all have the same extra ordinary bits that are seen as "imperfections" but they're not they all tell a story of who we are and why we are and where we are going!"
Stacey, you're our holiday hero!