Stacey Solomon Was Advised To Get Botox And Her Reply Was Priceless
8 January 2018, 17:27 | Updated: 8 January 2018, 17:38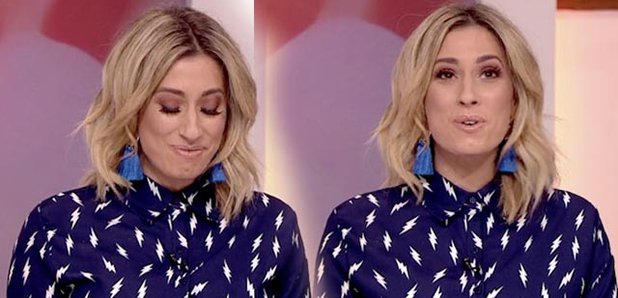 The Loose Women star got some surprise advice during a recent facial treatment.
Stacey Solomon was "shocked" when her beautician suggested she needs Botox and fillers in her lips.
The 28-year-old presenter, who is in a long-term relationship with I'm A Celeb...Extra Camp host Joe Swash, couldn't believe it when she visited a beauty salon over the weekend, to be told by the person giving her a facial that she needs to start getting injections on her face to avoid ageing earlier on.
During today's episode of 'Loose Women' Stacey said: "I went into to get a facial yesterday and the beautician, therapist, dermatologist suggested to me that it was the right time in my life for getting Botox and fillers."
The blonde beauty - who has five-year-old son Leighton and nine-year-old Zachary from previous relationships - would never want to have either Botox or fillers because she wouldn't want to not be able to make expressions with her mouth, and said she was left feeling ancient after the cosmetic worker's comments.
When asked by fellow panellist Ruth Langsford when she was told to have Botox, she said: "Well we were having a conversation and she said, 'Oh do you want Botox?' and I said, 'No, I don't really like it.
"And she said, 'Well you should really be thinking about having it to prevent ... I am 28 and I like being able to do this [smiling], I am really expressive. I don't have a problem with people getting Botox and fillers, I think whatever makes you happy go out and do it."
"What I have a problem with is a professional in the industry trying to convince me that I am not good enough, even though I walked into that salon perfectly happy with what I looked like. I was only going to get a facial to treat myself. I walked out of there feeling 170."
What is your opinion on Botox?