Stacey Solomon Finally Moves Kids Out Her Bedroom After NINE YEARS
11 September 2017, 08:42 | Updated: 10 October 2018, 16:28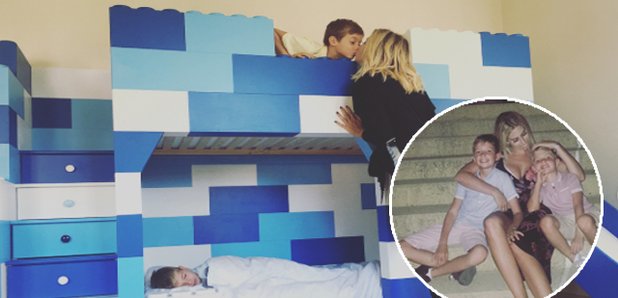 The Loose Women star's children have been sleeping in her bedroom this whole time.
Stacey Solomon might be able to get a little extra room to stretch out at night now that her her children have finally moved out of her bedroom.
The Loose Women star revealed in a heartfelt post that she had "selfishly" been keeping them in her bed for nine years but feels the time has come to let them go.
Taking to Twitter to post an adorable photo of her two sons, Zachary, nine and five-year-old Leighton in their very own bunk beds, Stacey poured her heart out about the joys of sleeping in the same bed as her boys.
"So, last night I spent the first night without my children coming in to my room and sleeping with me in 9 years.
"I'm sure a lot of people will have something to say about that but I honestly don't care. I love sleeping with my children and would do it forever if I could.
"Those cuddles, the kick in the face, the kisses in the morning. I live for that.
"However I have come to the realisation that as much as I love it, I also value my sleep, and relationship and I know that with extra special people coming into my life there simply isn't enough room for us all and everybody benefits from a good night's sleep.
"So, as daunting as it was change for me (selfishly) it was an even bigger change for the boys."
The picture sees Stacey leaning into give her son a kiss as she tucks them into bed but her post continued to reveal that she still wasn't quite ready to let them go even though her boys were excited about the prospect of having their own bed.
Stacey has an incredible bond with her two boys, and the news comes after she revealed she still bathes with her two little boys.
Defending her decision on Loose Women last month, Stacey said: "I'm not horrified at all. Anyone who's horrified at the thought of parents sharing a bath with their children I think has issues. It's each to their own. I still have baths with my children – my eldest is nine.
"Sometimes he's like, 'Oh put the bubbles over your boobs mother, I don't want to see it! But at the same time, why does the body always have to be looked at as some sexual thing?
"Why can't it just be the human body? It's almost like having dinner and reading bedroom stories."
Each to their own we say!