Stacey Solomon Takes Hilarious Extreme Measures To Feed Her Kids In The Snow
1 March 2018, 12:54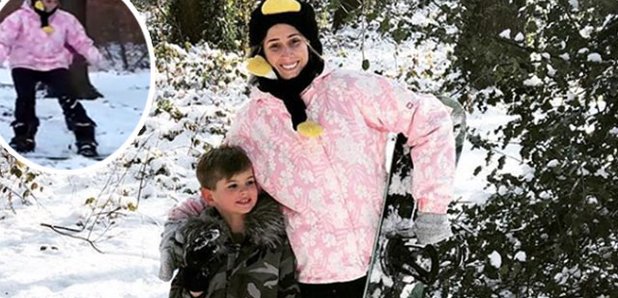 Stacey Solomon's alternative method of transport is EVERYTHING.
With Storm Emma upon us, and the snow bringing transport to an annoying halt, Stacey Solomon has found a hilarious solution.
Taking to Instagram stories, she shared a number of clips of herself attempting to snowboard to the shops to get food for her children.
She later shared an image on Instagram in full-on snow gear with the caption: "So British, 2cm of snow and I'm snowboarding to the shops to get supplies!"
The Loose Women host was joined by her son Leighton on her trip and later shared a video of her hubby Joe Swash joining in the fun.
Meanwhile, fans couldn't get enough of her dedication to get food supplies, with one fan commenting: "Haha I absolutely love u @staceysolomon u always crack me up"
Another added: "I love you and how unaffected you are with celebrity status .. you're normal, beautiful and make me laugh.. don't stop."
Others were just impressed by the fact that she gave snowboarding a stab, with one fan saying: "Love the fact you snowboard. Proper boarder chick"
Whilst another agreed that it was: "So much more fun than driving!"
We would've loved to see Stacey carrying her shopping home on her snowboard!
Watch more: