Stacey Solomon's son slept in her bed until he was ten
11 May 2018, 12:17 | Updated: 19 October 2018, 15:39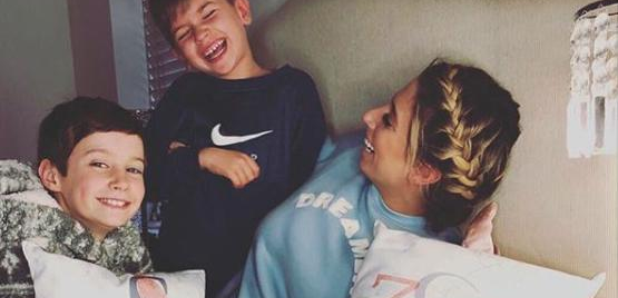 The Loose Women star confessed that her eldest has only recently stopped sleeping in the same bed as her.
Stacey explained that she kept her son Zachary sleeping in with her until he was 10 because she "never wanted him to be alone".
In her Fabulous column, the Loose Women host explained: "I was sad at the thought of my baby growing up and wanting his independence, but I supported it and made the transition as smooth as possible.
"I didn't think he'd ever want to leave the comfort of mummy's bed."
Stacey explained that at first, she didn't have a choice in the matter of Zachary sharing a bed with her, saying: "In all honesty my circumstances didn't allow us to sleep in separate rooms.
"For the first few years of Zachary's life we lived at my mum's house, a two-up two-down in Dagenham. He had to sleep with me."
However, she grew "a more overprotective attitude towards Zachary".
She added: "I didn't want him ever to be alone, especially not in the darkness of night."
Stacey confessed that her willingness to let her kids kip in her bed draws from her own experience of being scared to sleep as a child as she was afraid that she wouldn't wake up.
She said: "I spent most nights at the top of the hallway in hysterical tears begging for somebody to sit with me. I was scared of falling asleep and not waking up.
"Eventually I'd cry myself to sleep. My mum would come in and comfort me, getting me to count sheep or imagine my favourite places."