Stars Were Asked Their Opinions Of Piers Morgan And The Answers Are Brutal!
6 September 2017, 13:17 | Updated: 6 September 2017, 13:19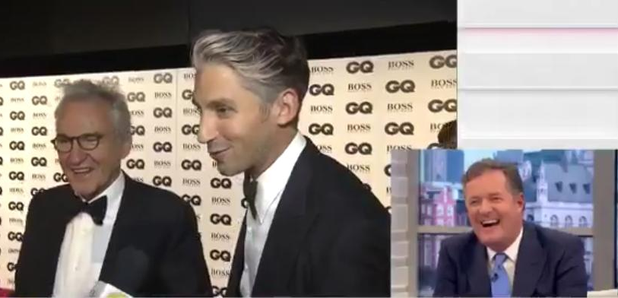 A listers attending the star studded GQ Man Of The Year Awards were asked for their thoughts on Good Morning Britain's Piers Morgan.
Piers Morgan is definitely daytime TV's most controversial character.
It's never Holly Willoughby, Phillip Schofeild or even his co-host Susanna Reid that make headlines with controversial opinions...nope, just Piers!
And Good Morning Britain producers cleverly came up with a way to teach the presenter that sometimes his opinions brush people up the wrong way and the results are pretty funny.
They took to the GQ Man Of The Year Awards last night to ask a whole host of famous faces their opinions on the GMB host and here's what they said...
Star who gave their opinions include X Factor host Dermot O'Learly who declared that Piers needs to "wear nicer suits" and he is "far too opinionated".
George Lamb, who appears in the clip alongside his dad Larry Lamb diplomatically said "he seems like a good guy however I can see how he rubs people up the wrong way".
Oasis star Liam Gallagher dismissed the presenter entirely thanks to his football loyalties saying "he's an Arsenal fan so he's not that good".
But 'Boys' singer Charlie XCX had the final brilliant word and said "I wouldn't date him". We second that, not many people would with opinions as divisive as Piers!
However as always, he shrugged off the criticism and said "as Oscar Wilde once said if theres one thing worse than being talked about it's not being talked about at all".
When will you learn Piers!