Steps Have HUGE News For Fans Including New Music!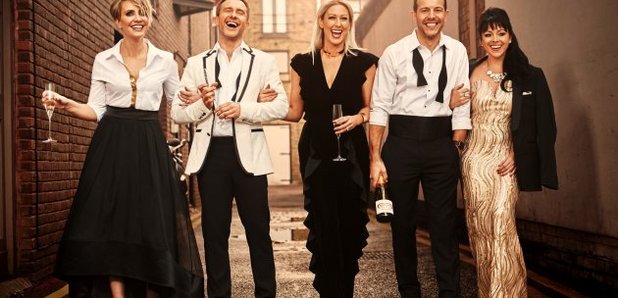 We can't believe it's been two decades since we were singing the likes of 'Tragedy', but the band are celebrating in a HUGE way!
Everybody get in line because Steps might be planning a big reunion.
The hit noughties pop group have revealed they have something up their sleeve to celebrate their 20th anniversary.
The band are embarking on a whopping 16 date arena tour around the UK, Ireland and even Belgium!
Venues the band are visiting include London's Wembley Arena, Newcastle's Metro Arena and Cardiff's Motorpoint arena to name just a few.
But it's not only Steps fans will be seeing on the stage as they are being joined on the tour by none other than Vengaboys as their support act - the Vengabus is back in town and we can't WAIT for this!
We can't believe it's been two decades since we were singing the likes of 'Tragedy' at our school discos, and now the boot scooting band have hinted that a reunion is imminent.
H ramped up the excitement this week with a cryptic tweet in which he mentioned: "So excited! Think I'm going to burst!"
I'm SO EXCITED! Think I'm going to BURST! #Steps20 #20YearsOfSteps @_ClaireRichards @LSLofficial @llatchfordevans @Faye_Tozer

— Ian H Watkins (@Ianhwatkins) 1 March 2017
Claire Richards also followed suit with a post that redirects fans to sign up for a newsletter, and a cheeky hint with the number five plus loads of hashtags such as '20 Years Of Steps'.
We've been scratching our heads trying to figure out what this all means!
Is that a nod to their first single, and could this be a countdown? Meaning we only have 5 days before something exciting happens?
HERE WE GOOOOOOO!
@_clairerichardshttps://t.co/ylKnf8hbT8 #20yearsofsteps https://t.co/mTGJ0G4mio

— Claire Richards (@_ClaireRichards) 1 March 2017
A source told The Sun: "This reunion has been in planning for a long time with various ideas thrown about.
"But the one thing everyone could agree on was it's time for Steps to release new music and inject some fun back into the scene.
"Obviously the band have all matured in the two decades since they found fame, and so has their music.
"But die-hard fans won't be disappointed – especially not when they'll still be wheeling out their cheesy hits on stage."
The reunion not only features a super line up of live dates but also a whole new album called Tears on the Dancefloor which has been written with a helping hand from ABBA legends Benny Andersson and Bjorn Ulvaeus.
We can't wait - 2017 is going to be HUGE for Steps!