Steps Have A New Dance Routine – And You Can Learn The Moves!
10 April 2017, 15:25 | Updated: 10 April 2017, 18:31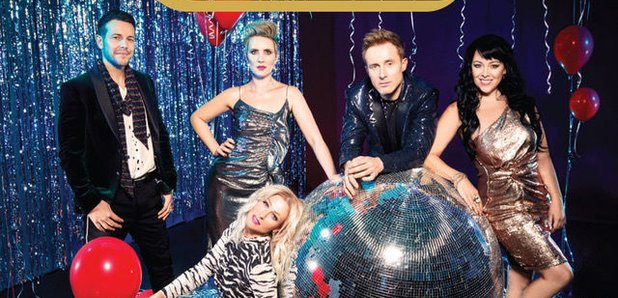 Scared of the Dark? Don't be! Here's your how-to guide for the group's new dance routine...
Forget '5, 6, 7, 8'. 'Forget Tragedy'. Coming to a wedding reception near you, it's the brand new dance routine from Steps.
Oh yes, we've all been playing the group's brilliant pop banger of a comeback single Scared of the Dark on repeat for the past month. An official video was finally released at the weekend - and Claire, Faye, Lisa, H and Lee are all looking mighty fine in it.
Read more: Steps Are BACK! And New Single 'Scared Of The Dark' Shows A Whole New Side To The Band

The fivesome are dressed in a slick combo of blacks and reds, and they're giving it some welly against a suitably moody nighttime city backdrop. But fear not - even though the lyrics are full of heartbreak, the group aren't taking themselves too seriously. There's still a cracking dance routine to learn.
Handily, Steps have released their how-to guide for the 'Scared of the Dark' dance routine, so... *Pineapple Dance Studios face* let's get learning!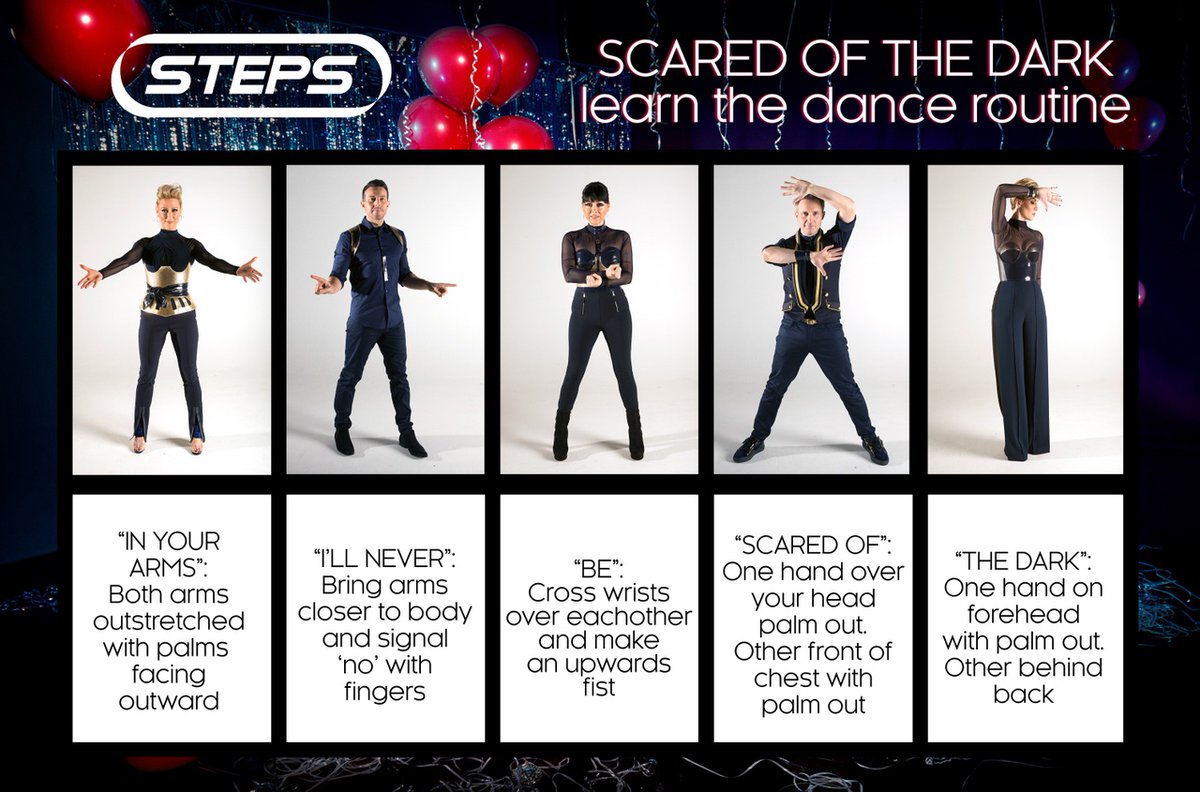 In time with these words and phrases from the chorus, dance routine for 'Scare of the Dark' is as follows:
– "In your arms": both arms outstretched with palms facing outward
– "I'll never": bring arms closer to body and signal "No" with wagging fingers
– "Be": cross wrists over each other and make an upwards fist
– "Scared of": one hand over your head, palm out. Other hand on front of chest with palm out
– "The dark": one hand on forehead with palm out. Other hand behind your back
OK, we think you've got it!
The new Steps album Tears On The Dancefloor is released on 21st April, and contains 10 new tracks. Fan expectation is high as this is the group's 20th anniversary and the new album will be their first fully original studio album since 2000.
The ABBA influence on 'Scared of the Dark' is undeniable – and ABBA legends Benny Andersson and Bjorn Ulvaeus have written a track called 'Story of a Heart' for the new album.
Read more: When Is Steps' UK Tour 2017? Everything You Need To Know About The Reunion

You can also buy tickets to the Party on the Dancefloor tour, which takes place in November and December. Poptastic support comes from Vengaboys.
Now excuse us while we go and practice that dance routine again….