Steve Irwin's Son Is Now The Spitting Image Of His Crocodile Hunter Dad
21 April 2017, 13:05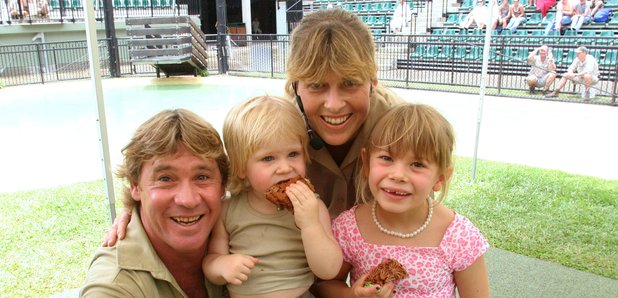 Robert Irwin had us all confused during his appearance on The Late Show Starring Jimmy Fallon. The likeness to his dad Steve Irwin is uncanny.
Dress in a kaki shorts with a wild enthusiasm for animals and pure confidence in front of the camera - you'll be forgiven for thinking we were talking about the late Steve Irwin.
Nope, we're talking about his wildlife-loving son, Robert.
TV zoologist, Steve Irwin - or Crocodile Hunter as he was also known - died in 2006 at the age of 44 from a stingray accident, leaving behind a beloved wife and two children: Bindi and Robert Clarence, who were 8 and 2 at the time.
Now 13, it looks like Robert is following exactly in his father's footsteps, right down to his looks and mannerisms.
Robert appeared on The Tonight Show Starring Jimmy Fallon to promote the annual Steve Irwin Gala in L.A. in aid of animal conservation.
With him, he gave host Jimmy Fallon a lesson in animal handling, bringing with him an array of wild animals — including Beetlejuice the African dwarf crocodile, Micky the screaming armadillo, Lady the red-tailed boa constrictor, Valentino the baby sloth, and Serenity the sloth (who took a particular liking to Fallon).
He told Jimmy: "My dad was actually on The Tonight Show quite a while ago, so it's really nice to be able to follow in his footsteps. It's just in my blood. I actually grew up at Australia Zoo, so I think I'm the luckiest kid on planet Earth."
And as if our eyes hadn't already welled up, Bindi, Robert's 18-year-old sister was back stage supporting her little bro.
She wrote on Instagram that her brother gets "more and more like Dad every day."
Bindi, continues his conservation efforts by promoting their charity, Wildlife Warriors.
Just like his father, Robert works at the Australian Zoo and co-hosts a wildlife show on Discovery Kids called Wild But True.