Stevie Wonder Crying On Stage Before An Emotional Prince Tribute Will Break Your Heart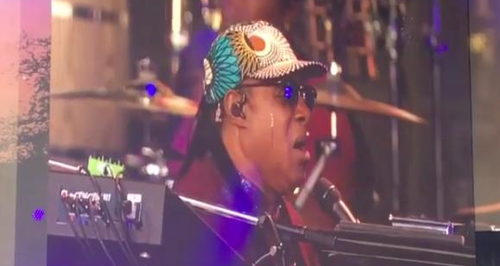 Watch the legendary singer shed a tear on stage during an emotional rendition of 'Joy Inside My Tears' at British Summer Time in Hyde Park.
Stevie Wonder is known for his emotional lyrics, however the iconic singer-songwriter appeared to get choked up by his very own words when he took to the stage for his headline set at British Summer Time in London.
The 'Superstitious' hit-maker had dazzled the crowds with a four hour set at the concert in London's Hyde Park on Sunday, however the crowds found themselves reaching for the tissues during his heartfelt rendition of 'Joy Inside My Tears'.
Its safe to say anyone watching the show would have had a lump in their throat whilst watching Stevie sing his heart out to the ballad with tears rolling down his face.
It's not yet clear what or who Stevie had been thinking about when he broke down in tears, however the purple lights flooding the stage led many onlookers to believe he had been singing the song in tribute to Prince.
Stevie, who was a long-time friend of the 'Purple Rain' hit-maker, then dedicated part of his set to the late singer who died tragically at the age of 57 earlier this year.
Leading the crowd in a much-welcomed tribute, he played Prince's most famous tracks such as 'When Doves Cry' and 'Kiss'.
Meanwhile, the audience was treated to a back-to-back performance of Stevie Wonder's 1976 album 'Songs In The Key Of Life'.
The album is deemed one of his most influential records to date and spurred well-known hits such as 'Knocks Me Off My Feet', 'Pastime Paradise', 'As' and 'Isn't She Lovely'.
Ah, you've gotta love him!