'Stranger Things' Star Millie Bobbie Brown Rivals Adele With This Hilarious Musical Starbucks Order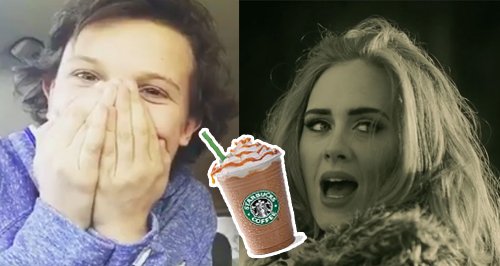 She may be known as Eleven in the 80s sci-fi drama, but Millie Bobbie Brown showed off her musical talents in this hilarious video.
It seems like James Corden's Carpool Karaoke has everyone keen to sing at the top of their lungs from the behind the wheel.
Millie Bobbie Brown has channelled Adele during a recent trip to a Starbucks drive-thru, where she sang her order to the puzzled staff when she pulled up with her dad.
The 'Stranger Things' actress shared a video to Twitter of herself parodying the Grammy Award-winning singer's hit, 'Hello'.
As her dad drives up to the window, the actress leans over from the front passenger seat and sings: "Can I have a vent latte...And a caramel frappuccino? Oh please!"
Adventures at Starbucks with my daddy #hellofromtheupsidedown #keepcalmimparked #fatheranddaughterbanter @adele pic.twitter.com/OeImRpQ4fK

— Millie Bobby Brown (@milliebbrown) November 26, 2016
This isn't the first time the 12-year-old has shown off her musical talents, as she famously nailed, Nicki Minaj's Monster during an appearance on The Tonight Show, just like Adele had done during her appearance on Carpool Karaoke with James Corden earlier this year.