Determined Streaker Pulls Off The Best Dive So Far!
Streaker at Rio Olympics 2016 FAIL | Streaker dives off diving board (Rio 2016)
00:59
He's was a one man mission...and no one could stop him.
This year's incredible batch of Olympians showing off their phenomenal diving displays at Rio 2016, have captured the world's imagination.
However, their skill has also reminded us all of that amazing moment back in 2015, when one man was determined to exceed all expectations.
While spectators probably expected to see the likes of the equivalent of Tom Daley take to the diving boards, they were in for a real treat at the World Diving Series as one cheeky spectator jumped over the barriers and darts for the pool.
Not willing to waste any time, he is seen stripping off his clothes whilst running, leaving the poolside security trailing behind.
Hilariously, he manages to dart up two flights of stairs as he makes his way to the top diving board while stunned swimmers watch on.
In a nail-biting moment a lifeguard finally manages to catch up with the man who had by now stopped down to his swimming trunks, but he sneakily manages to dodge his grasp before flinging himself overboard.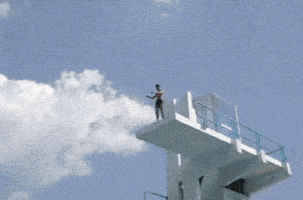 We think the streaker gets a gold medal for effort!