The Biggest Superhero Movies Coming Your Way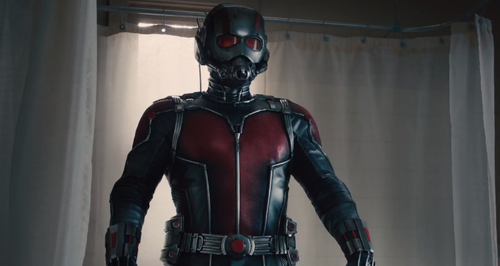 See all the latest trailers, pictures and announcements from the hottest superhero films coming out in 2015 and beyond, including 'Ant-Man', 'Fantastic Four' and 'X-Men'.
'Ant-Man'
If you think a film about superhero Ant-Man (who has the power to shrink down to the size of an ant. Yes, really!) is a ridiculous idea, the upcoming release from director, Peyton Reed might change your mind.
Starring Paul Rudd, Evangeline Lilly and Hayley Atwell, not to mention Michael Douglas, this is one star-studded superhero movie.
Rudd plays con-man Scott Lang who must keep the Ant-Man suit (which gives the wearer the ability to shrink in scale but increase in strength) from falling into the wrong hands.
Watch the trailer below...
Out 17th July 2015
'Fantastic Four'
Another superhero story is getting a reboot this year thanks to 'Chronicle' director, Josh Trank whose taken on the new 'Fantastic Four' film.
Rather than the 2005 version, which starred Jessica Alba and Ioan Gruffudd, this movies sees much younger scientists become the victims of an experiment gone wrong and develop superpowers.
Starring Miles Teller, Kate Mara, Michael B. Jordan and Jamie Bell as the foursome, Toby Kebbell takes on the role of villain, Victor Domashev.
Watch the trailer below...
Out 6th August 2015
'Deadpool'
After 'X-Men Origins: Wolverine' there was talk of character Deadpool getting his own spin-off film but nothing came of it... until now.
Ryan Reynolds plays the former Special Forces operative turned mercenary who is experimented on and gains accelerated healing powers along with an alter ego. The film is directed by Tim Miller and will also star Gina Carano and Morena Baccarin.
The first trailer has just been released so enjoy it below...
Out 12th February 2016
'Batman Vs Superman: Dawn Of Justice'
It's the age old question; who would win in a fight between Batman and Superman? Fans will soon be getting an answer with Zack Snyder's 'Batman Vs Superman: Dawn Of Justice' film out next year.
With Ben Affleck taking over from Christian Bale as Batman, and Henry Cavill reprising his role as Superman from 'Man Of Steel', this is set to be one epic superhero film.
It will kick off DC's 'Avengers'-style series of superhero movies that will culminate in a 'Justice League' live-action film, which sees Batman, Superman, Wonder Woman, The Flash, Green Lantern, Aquaman and the Martian Manhunter join forces.
Watch the trailer below...
Out 25th March 2016
'Captain America: Civil War'
The third 'Captain America' film will be hitting big screens in 2016 from directors, Anthony Russo and Joe Russo who took on the sequel 'Captain America: The Winter Soldier'.
Even though its a 'Captain America' film many of the Avengers will be starring in it, including Iron Man, Black Widow, Falcon, Black Panther, Spider-Man and Hawkeye.
A basic plot has been released: "Following the events of 'Age Of Ultron', the collective governments of the world pass an act designed to regulate all superhuman activity. This polarizes opinion amongst the Avengers, causing two factions to side with Iron Man or Captain America, which causes an epic battle between former allies."
So far, the only sneak peek fans have seen is stars Chris Evans (Captain America), Robert Downey Jr. (Iron Man) and Chadwick Boseman (Black Panther) facing off against each other at a Marvel fan event back in 2014.
Out 29th April 2016
'X-Men: Apocalypse'
Not much is known about the upcoming 'X-Men' film, which will continue the story of 'X-Men: Days Of Future Past' and is the final chapter in the 'First Class' trilogy.
'Apocalypse' will see Jennifer Lawrence, James McAvoy, and Michael Fassbender return as the young versions of the original X-Men but with one of the biggest superhero casts of all time, they're not going to be lonely.
Bryan Singer is returning as director and has already announced new cast members Ben Hardy, Lana Condor, Kodi Smit-McPhee and Olivia Munn.
The only sneak peek we've had of the film so far is some concept art for character Archangel, which Singer shared on Instagram. Check it out below...
Out 19th May 2016
'Suicide Squad'
Enough with all the superheroes, the ultimate supervillains will be taking to the silver screen in the form of David Ayer's 'Suicide Squad' next year.
Made up of the bad guys from various classic superhero stories, the Suicide Squad was created to use villain's powers for good, giving them a chance to work off their sentences.
The new film will see the Joker (Jared Leto), Deadshot (Will Smith), Harley Quinn (Margot Robbie), Captain Boomerang (Jai Courtney), Enchantress (Cara Delevingne), Rick Flag (Joel Kinnaman), Killer Croc (Adewale Akinnuoye-Agbaje) and Plastique (Karen Fukuhara) join up.
The first footage from the film was shown at Comic-Con 2015, but after poor-quality copies were leaked online, Warner Bros. Pictures were forced to release the high-quality version as a trailer. Check it out below...
'Wonder Woman'
We're finally getting our first major solo-female superhero film in a long while. 'Wonder Women' is in development at the moment and will see 'Fast & Furious' actress Gal Gadot play the kick-ass female crime fighter.
The project's first director, Michelle MacLaren recently pulled out over "creative differences" with the studio but has since been replaced by 'Monster' director, Patty Jenkins.
You won't have to wait 'til 2017 to see the female superhero in action though, as she's got a part in 'Batman Vs Superman: Dawn Of Justice' (check out her cameo in the trailer above) and will eventually be part of the Justice League.
Plus, a picture of Gadot in her crime-fighting gear has already been released. What do you think?
Out 23rd June 2017