Susanna Reid Slams Piers Mogan's Wacky Relationship Advice On GMB
26 September 2017, 12:37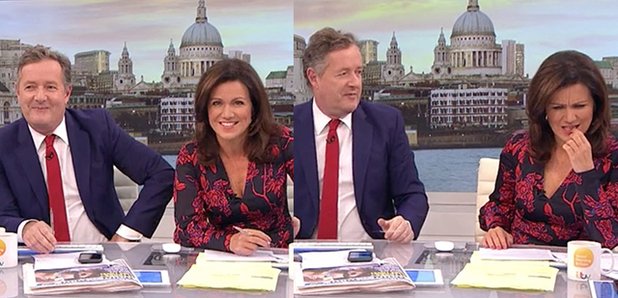 The Good Morning Britain presenter wasn't too pleased with her co-host's relationship tips.
Piers Morgan is known for not holding back. Whether it's politics, celebrities or general news the Good Morning Britain host will probably have a strong opinion about it and we don't know how his co-host Susanna Reid deals with it sometimes.
She's a trooper and often bites her tongue when it comes to some of Piers controversial comments but after Piers' bizarre claim on GMB today she just had to say something.
The 46-year-old presenter seemed baffled when Piers claimed he can predict when a couple are going to split by looking at their body language alone.
He bewildered Susanna by insisting that when couples begin to get more passionate in public they're more likely to be heading towards a split.
The conversation come to light when they were discussing Prince Harry's first public appearance with girlfriend Meghan Markle and how the pair were showing a few public displays of affection.
According to Piers "When a couple get really tactile, that's when they're going to split up.
"When you go out to dinner with a couple and they're all over each other, really overdoing it, that's when you know [it's over]."
A confused Susanna turned to him and said "I think you need some sort of counselling Piers".
That might be a bit far but we certainly think he needs to rethink a potential career as a relationship guru, especially if he thinks couples that look loved up are really heading towards a break up.
We don't think anyone will pay for that advice Piers, stick to your day job!