Meet The Nordic Knight Stealing All Our Hearts On Instagram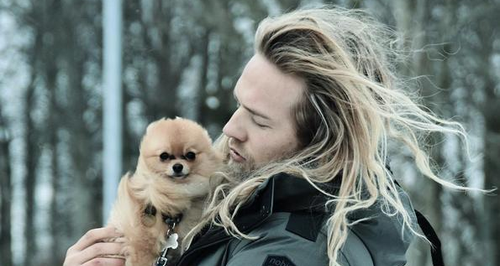 Incoming: The Scandi hunk with long blonde tresses and a bushy beard to match. Yup, we're officially about to make your day.
Every now and again life seems to deliver a little treat that helps us get through the long working week.
Enter Lasse Matberg, the 30-year-old Norwegian BEEFCAKE who's stormed into our lives and left us drooling for more.
He's the Nordic beau that, let's face it, we've ALL fantasised about!
We mean seriously, just look at the way he fells those trees. If only he were wearing a checked lumberjack shirt too...(that we could rip right off).
We're not going to lie, we've got SERIOUS hair envy from these beautiful blonde tresses. Oooh shake that shaggy lions mane baby!
With his bulging muscles and sultry stare, the beardy man has both a tough side and the emotional touch which keeps the punters wanting more.
Instead of lifting weights down the gym, Lasse is out chopping down trees in the beautiful forests of Norway.
Man or viking? It's hard to tell when we look at those bulging biceps...and his 117 thousand followers on Instagram clearly feel the same!
With those striking features the demi-god-in-human-form has many followers asking if he's even human?!
Instagram user rubidiopotasio commented "Are you from this world???"
Whilst ha_karin wrote: "You look like an angel"
Okay you can all calm down now...