Sylvester Stallone Challenging This Budding Rocky To A Boxing Match Is Everything!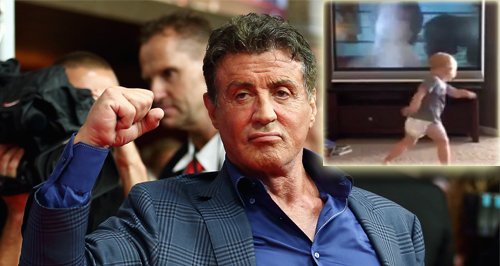 The actor is famed for his role as Rocky Balboa but it looks like this little chap is coming for his crown...
Toddler Charlie Magiavy will no doubt be pulling out all the stops in a bid to take the crown after being challenged to a rumble with none other than Sylvester Stallone.
The adorable baby became a viral sensation earlier this year when his Rocky training montage went viral.
Now the real Rocky Balboa has challenged the nappy-wearing tot to a match in the 10th instalment of the film series.
The movie boxing legend expressed his joy at watching the Charlie's video, which sees the toddler mimic the Italian Stallion as he trains to fight in Rocky II, before issuing his very own tongue-in-cheek challenge.
The 70-year-old movie star said on Instagram: "This kid makes me so proud that it touches a heart so young … Maybe I have to fight him (in) ROCKY 10!'
The actor, who so far has appeared in seven 'Rocky' films and more recently 'Creed', is just the latest of more than 2 million people whose hearts have been captured by the adorable clip.
Sylvester Stallone might want to pick his battles very carefully though, we're sure Charlie will have a few tricks up his sleeve.